Baby Bella Burgers With Watercress Pesto
For Vegetarians and Nonvegetarians Alike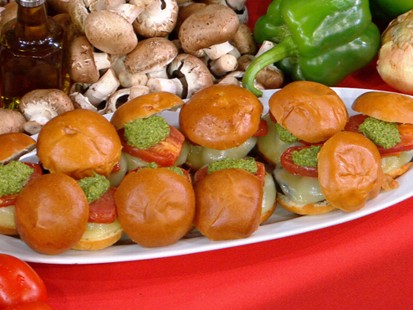 The TV chef prepares some tasty sliders with barbecue sauce and cucumber slaw.
From the kitchen of Rachael Ray
Vegetarians and non-vegetarians alike will love these burgers, topped with a flavorful watercress pesto.
Ingredients
1/2 cup balsamic vinegar
3-4 sprigs rosemary
1/4 cup Worcestershire sauce
1/2 cup extra virgin olive oil (EVOO), divided, plus additional for drizzling
12 baby bella mushroom caps
3 plum tomatoes, cut into 1/2-inch-thick slices
Salt and freshly ground black pepper
6 slices provolone cheese, cut to fit the size of the roll
12 brioche slider size rolls
2 cups watercress
3 tablespoons walnuts, toasted
Juice of 1 lemon
1 clove garlic, chopped
Cooking Directions
Pre-heat the oven to 275ºF.
In a large mixing bowl, combine the balsamic vinegar, rosemary, Worcestershire sauce and 1/4 cup EVOO (eyeball it). Add the mushroom caps to the bowl and toss to coat. Marinate in the refrigerator for several hours.
While the portabellos are marinating, arrange the tomato slices on a baking sheet and drizzle them with a little EVOO and a sprinkle of salt and pepper. Roast them in the oven for 1 hour, then turn the oven up to 325ºF for another 30 minutes until the tomatoes are light golden brown; reserve.
When you're ready to cook the burgers, pre-heat a grill pan over medium heat. Remove the mushrooms from the marinade, blotting off any excess with a paper towel. Season them with salt and pepper, and grill until grill-marked and tender, about 3 minutes per side. When you flip them, lay down a slice of cheese on each one to melt.
While the cheese is melting, set up a food processor. In the bowl, combine the watercress, walnuts, lemon juice, chopped garlic, and some salt and pepper. Pulse the machine a few times to chop everything up, then turn on the machine and stream in the remaining 1/4 cup EVOO until it forms a smooth pesto.
To assemble each burger, place a grilled mushroom cap on the bun bottom. Top with a slice of roasted tomato, a dollop of pesto and the bun top.
Serves 9-12
Food styled by Karen Pickus
Recipe Summary
Main Ingredients: watercress, bella mushroom caps, walnuts, provolone cheese
Course: Dinner, Lunch, Side Dish