'GMA' Super Snack Showdown: Falcons Fan Erica Key's Bacon-Wrapped Tenderloin Recipe
Watch the Video to Learn How to Make Falcons Fan Erica Key's Game Day Dish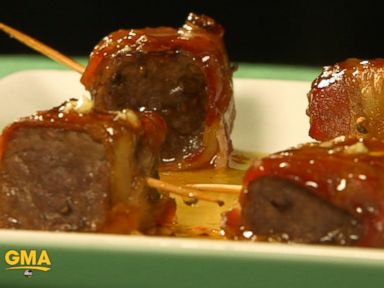 Watch this step-by-step video to learn how to make this recipe from GMA viewer and Atlanta Falcons fan Erica Key.
From the kitchen of Erica Key of EatingwithErica
As the Falcons and the Patriots prepare to face off on the field, "Good Morning America" is having two fans face off with their best game day food!
Food blogger Erica Key from the Atlanta area is representing the Falcons with her recipe for a bacon-wrapped tenderloin with peach chili honey sauce.
Ingredients
1.5 - 2 pounds of beef tenderloin cut to make 25 1.5 inch cubes
8-9 slices of Applewood bacon, cut into thirds
1 tsp kosher sale
1 tsp fresh cracked pepper
Peach chili honey

For Peach Chili Honey:
2/3 cups honey
1 garlic clove, chopped
1 tbsp shallots, chopped
1/4 cup water
1 - 2 tsp chili flakes
1/2 cup peach preserves
1 tsp apple cider vinegar
1 tbsp olive oil
Cooking Directions
Place tenderloin pieces in a bowl and season with salt and pepper. Cut each slice of bacon into 3 pieces. Wrap 1 piece of bacon around 1 piece of steak.
Secure with a toothpick and place on a baking sheet lined with parchment paper. Repeat with remaining bacon and steak.
Preheat oven to 400F and adjust rack to middle position. Place baking sheet and bake for 15-18 minutes depending on desired temperature, turning each piece half way through baking time. Serve immediately.
While tenderloin is baking follow the below recipe for Honey Peach Chili Sauce.
For the Honey Peach Chili Sauce:
Heat oil in medium sauce pan add garlic and shallots; saute for 2-3 minutes. Add chili flakes, water, honey, cider and peach preserves.
Reduce heat to a simmer, cook 5 minutes.
Remove from heat and set aside.
Drizzled over your bacon wrapped tenderloins.
Serve on a platter and enjoy! This serves 8 to 10 people with 1 to 2 pieces per person.
Recipe courtesy Eating With Erica.
Recipe styled by Karen Pickus, chef/food stylist, "Good Morning America."
Recipe Summary
Main Ingredients: beef tenderloin, bacon, honey, garlic, shallots, peach preserves
Course: Dinner, Party Platter, Main Course