Michael Symon's No-Bake Mac & Cheese
An Easy Take on a Comfort Food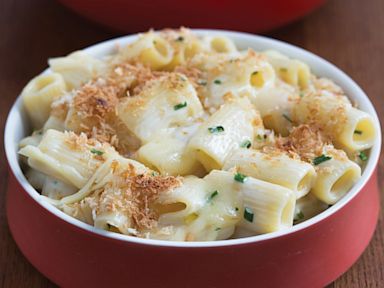 From the kitchen of Michael Symon
"The Chew" co-host Michael Symon's new book, "Michael Symon's 5 in 5," shows how to cook a fresh meal in five minutes with only five ingredients. This recipe is an easy way to whip up a beloved comfort food.
Ingredients
Kosher salt and freshly ground black pepper
1 pound fresh rigatoni pasta
2 cups heavy cream
1 teaspoon hot sauce, or to taste
½ cup mascarpone (if you cannot find it, cream cheese will work in a pinch)
1 cup grated aged cheddar cheese
½ cup finely chopped fresh chives
Cooking Directions
1. In a very large pot, bring 5 quarts water and 3 tablespoons salt to a boil. Add the pasta and cook until just al dente, about 1 minute less than the package directions. Occasionally give the pasta a stir so it doesn't stick together. Drain.
2. Meanwhile, put a 2-quart saucepan or Dutch oven over medium heat. Add the cream, hot sauce, 1 teaspoon salt, and pepper to taste and bring to a simmer. Cook until the cream has reduced by one-third, about 3 minutes. Add the mascarpone and cheddar, whisking to incorporate them into the cream.
3. When the cheeses are fully melted and blended into the sauce, add the cooked pasta and chives, stirring them into the sauce. Serve immediately.
Note: To add a crunchy topping, spread a layer of panko or plain dry bread crumbs on top and put under a hot broiler until golden brown, about 1 minute.
Yield: 4 servings.
Reprinted from the book Michael Symon's 5 in 5. Copyright © 2013 by Michael Symon. Photographs copyright © 2013 by Jennifer May. Published by Clarkson Potter, a division of Random House LLC.
This recipe was styled by chef Karen Pickus for Good Morning America.
Recipe Summary
Main Ingredients: cheddar cheese, rigatoni pasta, mascarpone, heavy cream
Course: Dinner, Lunch, Main Course, Pasta, Side Dish, Starch