Tasting Table's No-Bake, Mini-Pie Buffet
A Different Dessert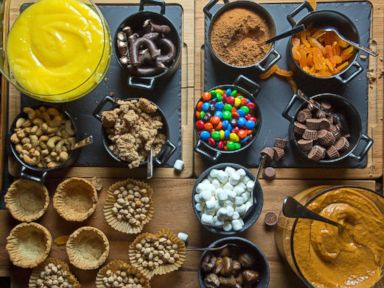 From the kitchen of Tasting Table
There's nothing wrong with classic holiday desserts like pumpkin or apple pie, but why not experiment a little this Thanksgiving? TastingTable.com has developed quirky yet crowd-pleasing recipes that are sure to wow guests. Try out this fun recipe for a No-Bake, Mini-Pie Buffet below.
Ingredients
Miniature Pie Crusts (see below)
Pumpkin Pie Pudding (see recipe below)
Lemon Curd (see recipe below)
M&M's
Mini Reeses' Cups
Marshmallows
Chocolate covered Pretzels
Crushed Oreos
Dried apricots
Streusel
For the pie crust:
2 3/4 all-purpose flour, plus extra for rolling
1 tablespoon granulated sugar
3/4 teaspoon kosher salt
15 tablespoons cold unsalted butter, cubed
3 to 4 tablespoons ice water
1 teaspoon cider vinegar
For the lemon curd:
3 lemons
1 1/2 cups granulated sugar
1/4 pound unsalted butter, at room temperature
4 large eggs
1/2 cup lemon juice
1/2 teaspoon kosher salt
For the pumpkin pudding:
1 cup canned pumpkin puree
1/4 cup honey
1 large egg
2 tablespoons cornstarch
3/4 cups milk
1/2 teaspoon cinnamon
1/4 teaspoon ground ginger
1/4 teaspoon ground cloves
1/4 teaspoon nutmeg
1/4 teaspoon kosher salt
Cooking Directions
Make the pie crust:
In a food processor, pulse together the flour, sugar, and salt. Add the butter and pulse until pea-size lumps form. Add 3 tablespoons ice water and the cider vinegar. Pulse to form a dough. Wrap dough in plastic wrap and chill for 1 hour.
Preheat oven to 350 degrees F. On a lightly floured surface, roll out the dough into a rectangle about ? of an inch thick. Using a 4-inch circle cutter, cut out 12 rounds. Gently press each round into a muffin tin. Place a cupcake wrapper inside each round, fill with dried beans, and bake for 40 minutes. Let cool.
Make the lemon curd:
Using a peeler, remove the zest of 3 lemons. Combine the zest and sugar in a food processor and pulse into a powder. Using an electric mixer fitted with a paddle attachment, cream together the butter and lemon-sugar mixture. Add the eggs, one at a time, then add the lemon juice and salt and mix until combined. Pour the mixture into a 2-quart saucepan and cook over low heat, stirring constantly with a rubber spatula until thickened, about 10 minutes. Remove from heat and place the bowl into an ice bath. Place a piece of plastic wrap on the surface of the lemon curd to avoid a film forming on top. Once fully cool, remove plastic wrap from surface, and chill
Make the pumpkin pudding:
Combine the pumpkin puree with the honey in medium saucepan over medium low heat. Whisk to combine, then whisk in the eggs.
Mix the cornstarch with a small amount of milk until there are no lumps, then add cornstarch mixture to the pot along with the spices, remaining milk, and salt. Cook over medium heat until just thickened. Remove from the heat and pour into a serving dish.
Recipe courtesy TastingTable.com.
Recipe Summary
Main Ingredients: assorted toppings, flour, lemons, sugar, butter, pumpkin puree, honey, eggs, spices
Course: Dessert