'GMA' lunch break: Chef John Deloach's baked clams oreganato
Try this delicious recipe!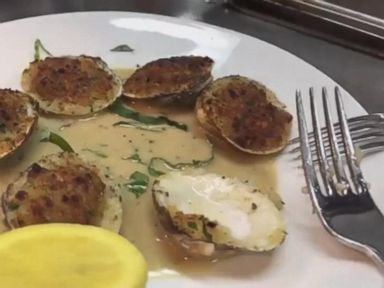 Deloach, the executive chef at LAVO New York, shares some of the restaurant's legendary recipes with ABC News' Gio Benitez.
From the kitchen of John Deloach
"GMA" caught up with chef John Deloach, the executive chef at LAVO, for lunch in New York City. Try Deloach's recipe for baked clams oreganato.
Watch the "GMA" Lunch Break live stream on ABCNews.com/live and the GMA Facebook page every Monday, Wednesday and Friday at 12:30 p.m. ET.
Ingredients
6 oz (6 pc) Little Neck Clams
4 oz Clam Juice
4 oz Seasoned Breadcrumbs
1 oz Olive Oil
.10 oz Sprinkle Grated Cheese
1.5 oz (1/2) Lemon
.025 oz Chopped Parsley
1 Lemon wrap
Breadcrumbs
1 Loaf of white bread, day old ,chop
1 cup of Italian bread crumbs
6 TBSP chopped garlic, squeezed out
1 TBSP dry Italian Oregano
2 TBSP Chopped fine parsley
1/2 cup grated Parmigiana
1/2 cup grated Pecorino
Black pepper
Salt
Extra virgin olive oil
Lemon
Cooking Directions
Open the clams and place on a sizzle platter cover each clam with breadcrumbs and bake until golden brown.
Put clams in dish and add more clam juice to the pan and pour in dish, sprinkle and parsley.
Recipe courtesy John Deloach/LAVO.
Recipe Summary
Main Ingredients: breadcrumbs, clams, olive oil, oregano
Course: Lunch, Appetizer/Starter, Dinner