Fabio Viviani's baked Gruyere, Parmesan and caramelized onion tart recipe
As seen on the 'GMA' Lunch Break live stream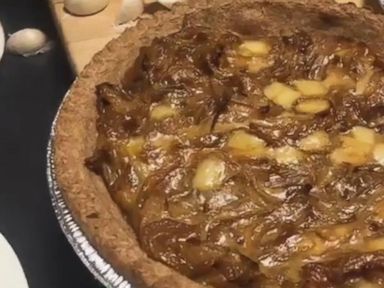 Viviani, the author of "30-Minute Italian," shares fettuccini and tart recipes with ABC News' Mara Schiavocampo.
From the kitchen of Fabio Viviani
"GMA" caught up with chef Fabio Viviani of "Top Chef" fame to learn how to make an authentic Italian lunch. Viviani shared his recipe for a cheesy, onion tart. Follow the recipe below to make it at home.
Watch more "GMA" food videos here.
Watch the "GMA" Lunch Break live stream on ABCNews.com/live and the GMA Facebook page every Monday at 12:30 p.m. ET.
Ingredients
2 tablespoons olive oil
6 tablespoons butter
2 pounds red and white onions, sliced
5 cloves garlic, sliced
1/2 cup heavy cream
2/3 cup balsamic vinegar
3 eggs
1 cup grated Gruyere cheese
2 15-cm store-bought pie shells, baked
1 and 1/4 cup grated Grana Padano cheese
Salt and pepper
Cooking Directions
Preheat oven to 375F. In a large sauté pan, add the oil and butter. Once it starts to bubble, add onions and garlic. Stir and cook until well caramelized.
Add the cream and balsamic vinegar. Reduce until onions are completely coated, about 6 to 8 minutes. Once it resembles syrup, remove and set aside.
Beat eggs, and mix in the Gruyere cheese and onions. Season to taste with salt and pepper. Divide evenly between the two pie shells.
Place on baking sheets, sprinkle with the Grana Padano, and toss in the oven. Cook for 15-20 minutes, or until filling is set and starting to brown.
Serves 6-8 as appetizer.
Recipe courtesy of "Fabio's 30-Minute Italian by Fabio Viviani"; published by St. Martin's Press. Copyright ©2017 by Fabio Viviani. All Rights Reserved. Used with Permission.
Recipe Summary
Main Ingredients: gruyere, parmesan, onion, butter, olive oil. heavy cream, balsamic vinegar, 3 eggs
Course: Appetizer/Starter, Party Platter