'GMA' Cookie Search: Banana Pudding Cookie Recipe
Viewer Shares Her Beloved Cookie Recipe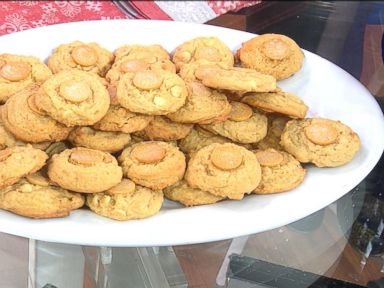 "GMA" viewer Zenobia Dewely from New York shares her recipe for her famous banana pudding cookies.
From the kitchen of Zenobia Dewely
Ingredients
2 ½ cups of flour
1 cup of butter (2 sticks) room temp, cut up into cubes
¾ cup of granulated sugar
¾ cup of dark brown sugar
3 oz. of banana cream pudding cup
3.4-ounce box of banana cream instant pudding mix
2 eggs (room temp)
1 teaspoon of vanilla extract
1 teaspoon of baking powder
2 cups of white chocolate chips
12 Nilla wafers crushed
36 mini Nilla wafers
Cooking Directions
First preheat oven to 375 degrees.
First add sugars and butter in mixing bowl. Mix on low speed until fluffy.
Add vanilla extract then banana cream pudding cup. Mix for 30 seconds.
Beat eggs one at a time, then add banana cream instant pudding mix.
Next add the flour and baking powder at medium speed. Beat for 45 seconds. Remember to scrape the sides of the mixing bowl.
Next add the crushed Nilla wafers and white chocolate chips. Mix for about 20 more seconds.
Drop by the tablespoon or cookie scoop full onto baking sheets.
Add the mini Nilla wafers in the middle of each cookie dough. Bake for 10 minutes at 375 degrees.
Makes three dozen cookies.
Recipe courtesy Zenobia Dewely.
Recipe styled by Karen Pickus, chef/food stylist, "Good Morning America."
Recipe Summary
Main Ingredients: egg, flour, butter, sugar, banana cream pudding mix, nilla wafers, white chocolate chips
Course: Dessert, Cookies