Duck Dynasty Banana Pudding
Reality Family Recipe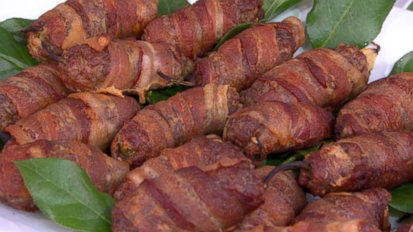 The cast of the hit show share treats from the new cookbook "Miss Kay's Duck Commander Kitchen."
From the kitchen of Duck Dynasty
America's favorite reality TV family, the Robertson's of Duck Dynasty, stopped by "Good Morning America" to share their go-to recipes from Miss Kay's cookbook, "Miss Kay's Duck Commander Kitchen" to make in their home. Try her recipe for Banana Pudding here.
Ingredients
2 sticks (½ pound) butter, melted
2 cups sugar
? cup all-purpose flour
1 teaspoon salt
1 can (12 ounces) evaporated milk (I use Pet)
¾ cup whole milk
6 large egg yolks
1 teaspoon vanilla extract
40 vanilla wafer cookies
3 bananas
Lemon juice
Whipped topping (optional)
Cooking Directions
In the top of a double boiler over simmering water, melt the butter. Whisk in the sugar, flour, and salt. Add the milks and stir continuously until the mixture thickens. This may take 30 to 40 minutes.
Once it's thickened, stir a little into the egg yolks. This will temper the yolks and keep them from cooking too fast. Stir the tempered egg yolks into the mixture in the double boiler and cook, stirring, until when you pull out the spoon, the mixture does not drip. Remove the top from the double boiler. Stir in the vanilla.
Spread a little of the pudding in the bottom of the casserole. Top with the vanilla wafers. Slice the bananas in rounds, dip them lightly in lemon juice to preserve their freshness, and place on the wafers. Pour the remaining pudding on top. If you like, add more vanilla wafers to the top of the pudding and add spoonfuls of whipped topping.
To be really fancy, layer the pudding, bananas, and vanilla wafers in nice drinking glasses and add a little whipped topping.
Recipes courtesy "Miss Kay's Duck Commander Kitchen"
Recipes styled by Karen Picks for "Good Morning America."
Recipe Summary
Main Ingredients: butter, sugar, flour, evaporated milk, whole milk, vanilla extract, wafer cokies, bananas, lemon juice, egg yolks
Course: Dessert