Emeril's Banana Splits With Hot Fudge, Caramel Sauce
A Classis Dessert Done Emeril Style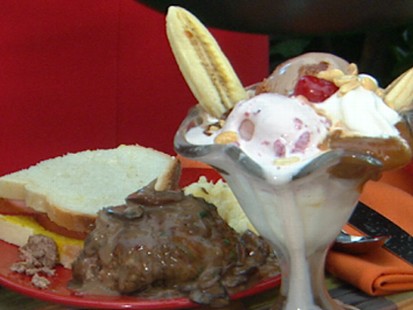 The world-famous chef offers a modern take on some of his favorite retro dishes.
From the kitchen of Emeril Lagasse
Emeril's banana splits topped with ooey-gooey caramel sauce and homemade hot fudge are a winning pick for a crowd-pleasing dessert.
Another pick? Try his banana cream pie recipe too!
Ingredients
For the Splits:
6 firm-ripe bananas, halved lengthwise
Vanilla ice cream, for serving (or your favorite flavor)
Hot Fudge Sauce, for serving, recipe follows
Caramel Sauce, for serving, recipe follows
2 cups lightly sweetened whipped cream, for serving
Finely chopped roasted peanuts, for serving
6 maraschino cherries, for serving
For the Hot Fudge Sauce:
1/4 cup unsweetened cocoa powder
1/2 cup sugar
3/4 cup heavy cream
1/4 cup plus 2 tablespoons light corn syrup
3 ounces semisweet chocolate, chopped
2 tablespoons unsalted butter
1 teaspoon vanilla extract
Pinch salt
For the Caramel Sauce:
3/4 cup sugar
1/4 cup hot water
1 cup plus 2 tablespoons heavy cream
1 teaspoon vanilla extract
2 teaspoons cold unsalted butter
Cooking Directions
Place two pieces of banana on each of six serving plates. Top each banana with one or two scoops of vanilla ice cream. Drizzle with Hot Fudge Sauce and Caramel Sauce (recipes follow). Top with dollops of whipped cream and sprinkle with chopped peanuts. Top each serving with a maraschino cherry and serve immediately.
For the Hot Fudge Sauce (Yield about 2 cups):
Combine the cocoa powder and sugar in the top of a double boiler over briskly simmering water and whisk to combine. Add the heavy cream and corn syrup and whisk until smooth. Cook, whisking constantly, until mixture is hot, thick and creamy, 3 to 5 minutes. Add the chocolate, butter, vanilla and salt and stir to combine. Cook, stirring occasionally, until the chocolate and butter are melted and the sauce is smooth, 2 to 3 minutes. Keep warm until ready to serve. (The sauce may be prepared up to several weeks in advance and reheated gently in a double boiler before serving.)
For the Caramel Sauce (Yield about 1 1/2 cups):
In a heavy saucepan combine the sugar and water and cook over high heat until the sugar is dissolved, about 1 minute. Continue to cook, swirling occasionally but never stirring the sugar mixture, until mixture thickens and turns a deep amber color, 5 to 8 minutes.
Remove the saucepan from the heat and add the heavy cream; be careful, the mixture will splatter.
Return the pan to the heat and reduce the heat to medium. Allow to cook until the sauce is thick and creamy, stirring occasionally to help incorporate the cream, about 5 minutes. Remove from the heat and stir in the vanilla and butter. Serve warm. (If making the sauce in advance, rewarm the sauce before serving.)
Recipe courtesy Emeril Lagasse, copyright MSLO, Inc., all rights reserved.
This recipe was styled by chef Karen Pickus for Good Morning America.
Recipe Summary
Main Ingredients: bananas, vanilla ice cream, sugar, heavy cream, unsalted butter, whipped cream, roasted peanuts
Course: Dessert