BBQ Pork Sandwiches with Five-Vegetable Slaw
The Best BBQ Sandwiches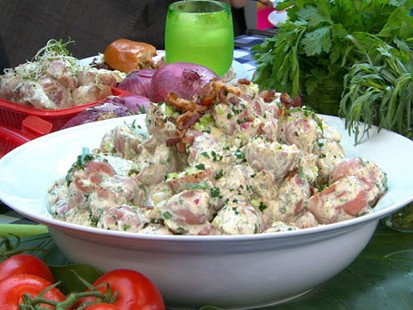 Food and Wine magazine editor makes potato salad with bacon and BBQ sauce.
From the kitchen of Food & Wine
"Spicy roast pork and crisp coleslaw add up to a down-home sandwich with uptown taste."
Check out Food & Wine's best parks for picnics here.
Ingredients
1/4 cup plus 2 tablespoons dark molasses
1/3 cup cider vinegar
1/4 cup tomato paste
4 large garlic cloves, minced
1 teaspoon ground cumin
1/4 teaspoon cayenne pepper
1/2 teaspoon paprika
1/2 teaspoon ground coriander
1/2 teaspoon salt
1/3 teaspoon freshly ground black pepper
1 1/2 pounds boneless pork shoulder, cut into 2-inch cubes
2 imported bay leaves
4 large, soft sesame-topped buns
For the slaw:
4 cups finely shredded green cabbage
1/2 cup thinly sliced red bell pepper
1/2 medium cucumber—peeled, halved lengthwise, seeded and thinly sliced
3 scallions, thinly sliced on the diagonal
1/3 cup mayonnaise, preferably homemade
1 tablespoon cider vinegar
1/4 teaspoon salt
1/4 teaspoon freshly ground black pepper
Cooking Directions
For the BBQ sandwiches:
Preheat the oven to 325°. In a medium bowl, whisk together the molasses, vinegar, tomato paste, garlic, cumin, cayenne, paprika, coriander, salt and black pepper. Place the pork cubes and bay leaves in a large, shallow, nonaluminum baking dish. Add the molasses mixture and stir well to coat. Cover with foil and bake until the pork is very tender, about 1 1/2 hours.
Remove the meat from the sauce and shred with a knife. Return the shredded meat to the baking dish and mix with the sauce.
Slice the buns in half. Spoon the pork onto the bottom halves of the buns and mound 1/2 cup or more of the Vegetable Slaw on top. Cover with the bun tops and serve the remaining Vegetable Slaw on the side.
For the slaw:
In a large bowl, toss together the cabbage, red and green bell peppers, cucumber and scallions. Mix in the mayonnaise, vinegar, salt and black pepper. Cover and refrigerate for up to 2 days before serving.
This recipe was styled by chef Karen Pickus for Good Morning America.
Courtesy Food & Wine.
Recipe Summary
Main Ingredients: vinegar, salt, pepper, molasses, tomato paste
Course: Lunch, Dinner
More Info: Kid Friendly