Beautiful Breakfast Tortilla
A Spicy Way to Start Your Day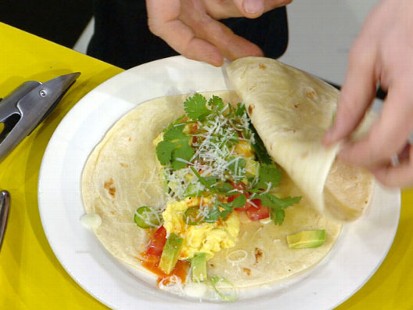 The star chef of "Jamie's America" has a quick and easy way to start your day.
From the kitchen of Jamie Oliver
|
This will definitely get you going in the morning, especially if you use fresh chiles and chile sauce like Jamie Oliver has done here. If that's not your thing, feel free to adjust this to suit your taste — it will still be delicious. Great with a mug of strong coffee.
Ingredients
1 ripe avocado, halved, pitted, peeled, and chopped
2 limes
Sea salt and freshly ground black pepper
1 medium-sized tomato halved and diced
1 fresh green chile, seeded and minced
a small bunch of fresh cilantro, leaves picked and chopped
a handful of freshly grated Manchego or Cheddar cheese
4 corn or flour tortillas
6 large eggs, preferably free- range or organic
4 scallions, trimmed and minced
a good pat of butter
chile sauce (as hot as you want!), to serve
Cooking Directions
Roughly mash your avocado with the juice of 1 of your limes and a good pinch of salt and pepper, and put aside. Arrange the rest of your topping ingredients on a plate: the tomato, chile, cilantro leaves, and grated cheese.
Quickly reheat the tortillas in a hot dry pan for 20 seconds on each side until warmed through. Wrap them in aluminum foil to keep them warm while you get on with your eggs.
Beat the eggs in a bowl with the minced scallions and a good pinch of salt and pepper. Melt the butter in a large frying pan on a medium heat and pour in the eggs. Lightly tip the pan as the eggs cook, and when you see a layer forming on the bottom of the pan, sweep a rubber spatula around so you get little handkerchiefs of cooked egg surrounded by wonderful custardy egg. Keep an eye on it and stir gently for a minute or so, until the eggs are starting to scramble but are still loose.
Get your 2 plates and lay a warm tortilla on each one. Divide the scrambled egg between them, top with the chopped tomato and mashed avocado, and sprinkle over your chile, cilantro, and grated cheese. Lay another tortilla on top, and drizzle over some chile sauce. Cut your remaining lime into wedges for squeezing over and dive in.
Other Recipes That You Might Like