Justin O'Connor's Beef and Guinness Stew
St. Patrick's Day Food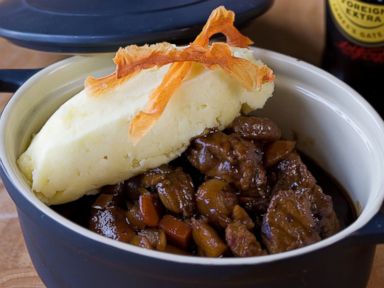 From the kitchen of Justin O'Connor
|
It's pretty safe to say the the Guinness Storehouse executive chef knows how to cook Irish specialties using the stout beer. Celebrate St. Patrick's Day this year with chef Justin O'Connor's recipe for Beef and Guinness Stew.
Ingredients
1 cup Guinness Foreign Extra Stout
1 pound stewing diced beef
1 medium onion – diced
1 large carrot – diced
1 large celery – diced
1 large parsnip – diced
1 liter of think beef stock
Sprigs of thyme and rosemary
Champ potatoes (creamed mashed potato and spring onion)
Cooking Directions
Stir fry the beef, add the vegetables and cook until tender, then pour the Guinness and reduce by half. Add the beef stock and herbs and simmer very slowly, for about an hour to an hour and a half. Serve with champ potatoes.
Tip: stew is always better when made one day in advance and reheated.
Recipe courtesy Guinness Storehouse.
Other Recipes That You Might Like