Wolfgang Puck's Beef Short Rib Goulash with Spaetzle
Oscars Eats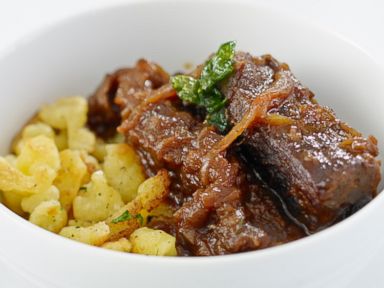 From the kitchen of Wolfgang Puck
|
Wolfgang Puck has been serving the stars at the Oscars Governor's Ball for years, and each time he ups the ante. Dine like the nominees at your viewing party this year with his recipe for Beef Short Rib Goulash with Spaetzle.
Ingredients
1 tablespoon whole caraway seeds
2 tablespoons extra-virgin olive oil
4 cups thinly sliced yellow onion
1 tablespoon sugar
3 garlic cloves, minced
1 1/2 tablespoons sweet paprika
1 teaspoon spicy paprika
2 tablespoons minced fresh marjoram leaves
1 teaspoon minced fresh thyme leaves
1 bay leaf
3 tablespoons tomato paste
2 tablespoons balsamic vinegar
4 cups good-quality canned chicken broth
2 1/2 pounds well-trimmed boneless beef short ribs, cut into 2-inch chunks
1 teaspoon salt
1/4 teaspoon freshly ground black pepper
Spaetzle (recipe below)
Cooking Directions
Put the caraway seeds in a small skillet over medium-high heat. Toast, stirring constantly, until fragrant and slightly darkened, 2 to 3 minutes. Immediately transfer to a bowl to cool. Grind in a spice grinder. Set aside.
In a large sauté pan, heat the oil over medium-high heat. Add the onion and sugar and sauté, stirring frequently, until the onions turn a medium caramel-brown, about 7 minutes. Stir in the caraway and garlic and cook, stirring, 1 minute longer. Add both paprikas, marjoram, thyme, and bay leaf. Sauté, stirring, until fragrant, about 1 minute longer. Stir in the tomato paste and vinegar. Add the broth, raise the heat, and bring to a boil, stirring and scraping with a wooden spoon to deglaze the pan deposits. Add the beef, salt, and pepper. Reduce the heat to maintain a very gentle simmer and cook, partially covered, until the beef is very tender, about 1 1/2 hours, stirring occasionally.
Before serving, remove the bay leaf, taste the sauce, and adjust the seasonings, if necessary, with salt and pepper. To serve, spoon the spaetzle onto heated plates or into large shallow serving bowls for main courses, or into small bowls for hors-d'oeuvres. Spoon the meat and sauce alongside and over the spatzle.
Spaetzle
4 large egg yolks
1 large egg
1 3/4 cups milk
1 pound (about 3 cups) all-purpose flour
1/4 teaspoon freshly grated nutmeg
1 teaspoon salt
1/4 teaspoon freshly ground pepper
4 ounces unsalted butter, melted
1/2 cup peanut oil
2 ounces unsalted butter, cut into pieces
1 tablespoon fresh minced parsley
In a small bowl, beat together the yolks, egg, and milk.
In a medium bowl, combine the flour, nutmeg, salt, and pepper. Add the melted butter and the egg mixture and mix by hand until well blended. Do not overmix. Cover and refrigerate to rest for at least 1 hour.
Bring a pot of salted water to a boil. Place a large mixing bowl filled with ice and water on the counter near the sink. Place a large-holed metal colander on top of the pot. Put the batter in the colander and, with the back of a large spoon, force the batter through the holes into the water to form spaetzle. Cook until the spaetzle rise to the surface, 4 to 5 minutes.
Drain and instantly transfer the spaetzle to the ice water. When cool to the touch, drain well. Transfer to a bowl and stir in half the oil. (At this point you can cover and refrigerate up to 2 days.)
Before serving, heat a large sauté pan over high heat Add the remaining oil and the spaetzle. Cook for 2 minutes without moving the pan, to brown their undersides. Add the butter pieces and sauté, stirring frequently, until golden brown, 3 to 4 minutes longer. Season to taste with salt and pepper. Garnish with parsley.
Recipe courtesy Wolfgang Puck Catering.
Other Recipes That You Might Like