Daniel Humm's Beer-Battered Apples
Top Restaurant Tips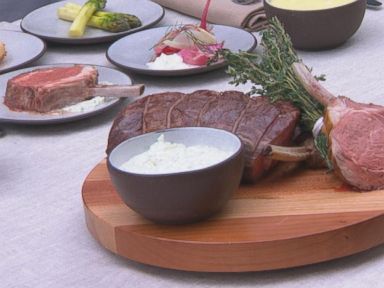 The executive chef of New York's Eleven Madison Park cooks up recipes you can make from his new cookbook.
From the kitchen of Daniel Humm
|
Eleven Madison Park in New York City is one of America's top restaurants for multiple reasons: the gorgeous décor, impeccable service and, of course, innovative food. Chef Daniel Humm shared the secrets of what makes his restaurant so highly-regarded on "Good Morning America," as well as recipes from his cookbook "I Love NY," like the Beer-Battered Apples below.
Ingredients
Canola oil
2 large Mutsu apples, peeled and cored
5 tablespoons sugar
1 tablespoon ground cinnamon
3 cups flour, plus more for dredging
2 cups Brooklyn Lager
1/2 cup grapeseed oil
1 1/4 teaspoons salt
6 egg whites
Cooking Directions
Pour 3 inches of canola oil into a large saucepan and bring the oil to 375°F over medium-high heat. Slice the apples crosswise into 1/2-inch-thick rings. Mix the sugar and cinnamon in a bowl and set aside. In a large bowl, mix together the flour, lager, grapeseed oil, and salt. In a separate, very clean bowl, whip the egg whites to soft peaks and fold into the flour mixture. Dredge the apple rings in flour, and then dip them in the beer batter. Fry in batches (2 or 3 at a time) so as to not overcrowd the pan for 21/2 minutes, flip, and fry for an additional 3 to 4 minutes or until golden brown. Drain on paper towels and toss while still warm in the cinnamon sugar.
Recipe courtesy Daniel Humm from "I Love NY."
Other Recipes That You Might Like