Bert's Favorite Lemony Oat Sugar Cookies
Kid-Friendly Snack from Sesame Street's Kitchen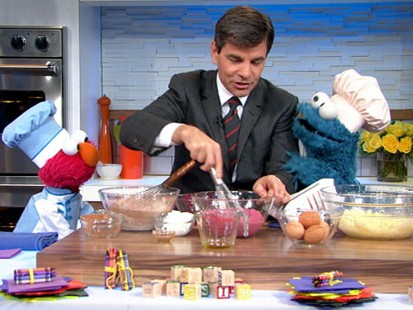 "Sesame Street" stars share their favorite baking recipes with "GMA."
From the kitchen of From the Sesame Street Kitchen
Lemon juice gives these crisp cookies a refreshing citrus flavor. The cookies are Bert's favorites, and soon will be your kids' favorites too! Kids can help make the cookies by measuring the ingredients, mixing the dough and licking the spoons and bowls clean too, of course!
Ingredients
2 1/2 cups all-purpose flour
2 tsp baking powder
1/4 tsp salt
1/2 cup (1 stick) butter
2 cups sugar
2 large eggs
1/3 cup olive oil
3 T lemon juice
2 tsp finely grated lemon rind
1 1/2 cups regular or quick-cooking oats
Sugar
Cooking Directions
In a medium bowl, whisk together the flour, baking powder and salt, set aside.
In a large bowl, with an electric mixer, beat the butter and sugar until light and fluffy.
Add the eggs, one at a time, to the butter mixture, beating after each addition. Beat in the oil, lemon juice and lemon rind. With a wooden spoon, stir in the flour mixture and oats until well-combined. Wrap and refrigerate dough until well-chilled, at least one hour.
Preheat the oven to 375 degrees. Lightly oil baking sheets.
Use a teaspoon to scoop the dough into 1-inch balls. Place balls several inches apart on oiled cookie sheets. Flatten each ball slightly with the bottom of a cup that has been dipped in sugar.
Bake cookies 8 to 10 minutes, or until lightly browned around the edges. Transfer the baking pan to a rack for 1 minute, then use a wide spatula to transfer cookies to a rack to cool completely. Store in airtight container for up to 3 days.
Recipe courtesy of Sesame Street "B" is for Baking: 50 Yummy Dishes to Make Together by Sesame Workshop.
This recipe was styled by chef Karen Pickus for Good Morning America.
Recipe Summary
Main Ingredients: sugar, olive oil, lemon juice and rind, salt, butter, eggs, oats
Course: Cookies