Beth Leonard's Crunchy Peanut Butter Cookies
The Traditional Cookies Get an Extra Dose of Crunch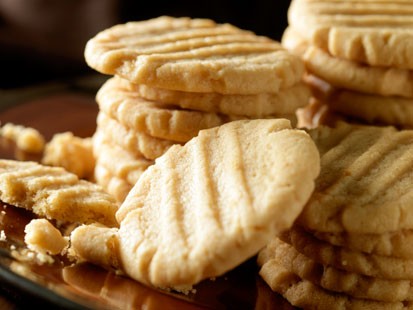 From the kitchen of Beth Leonard
The unexpected twist of oats and chocolate give these traditional cookies an update. The oats in the cookie create a delicious hearty combination.
This recipe is courtesy of Beth Leonard of Stew Leonard's.
Ingredients
4 ounces unsalted butter or margarine, at room temperature (1 stick of butter)
1/4 cup vegetable shortening
1 cup peanut butter
1 cup sugar
1 egg
1 cup raw oatmeal
1 1/2 cups all-purpose flour
1/2 teaspoon salt
1/2 teaspoon baking soda
1/2 cup chocolate chips
Granulated sugar for garnish
Cooking Directions
Preheat the oven to 350 degrees. Grease a cookie sheet.
Beat the butter or margarine, vegetable shortening, peanut butter, and sugar in an electric mixer for 2 to 3 minutes until light and creamy. Add the egg and beat just to combine.
In a separate bowl, combine the oatmeal, flour, salt, and baking soda. With the mixer set at low speed, blend the dry ingredients into the butter mixture. Stir in the nuts or chips.
Form the dough into 2-inch balls placed 2 inches apart on a cookie sheet. Press the cookies with the back of a fork to flatten slightly. Sprinkle with sugar. Bake on the center rack of the oven for 18 to 24 minutes. Cool the cookies on a wire rack.
Recipe courtesy Stew Leonard's.
Recipe Summary
Main Ingredients: salt, butter, chocolate chips, sugar, oatmeal
Course: Cookies
More Info: Kid Friendly