Bethenny Frankel's Irresistible Bleu Cheese Dip
Dip Your Favorite Pretzels and Veggies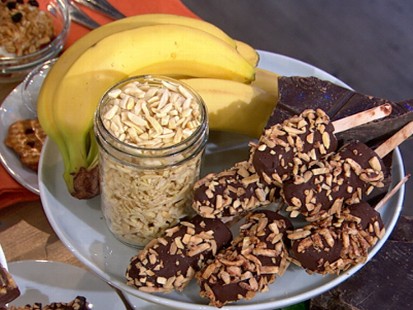 Founder of Skinnygirl products explains how to prepare food that will keep you trim.
From the kitchen of Bethenny Frankel
Try Bethenny Frankel's irresistible blue cheese dip recipe.
Ingredients
1 container (8 ounces) reduced fat vegetable cream cheese, softened
1 cup reduced fat sour cream
1 cup crumbled blue cheese (about 4 ounces)
1 teaspoon garlic powder
1/4 teaspoon freshly ground black pepper
1 teaspoon minced fresh parsley
1 teaspoon minced fresh dill weed
Pretzel Thins
Cooking Directions
Place the cream cheese, sour cream, blue cheese, garlic powder, pepper, parsley and dill into a medium bowl. Beat with an electric mixer on medium speed until the mixture is blended. ??Sprinkle with additional parsley. Serve with the pretzel thins for dipping.
Recipe courtesy Bethenny Frankel.
This recipe was styled by chef Karen Pickus for Good Morning America.
Recipe Summary
Main Ingredients: pepper, parsley, cream cheese, blue cheese
Course: Sauces and marinades