Bethenny's Homemade Almond-Berry Granola
Give Yogurt Some Crunch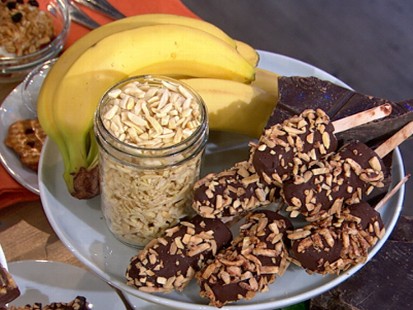 Founder of Skinnygirl products explains how to prepare food that will keep you trim.
From the kitchen of Bethenny Frankel
Snack on a couple of handfuls or add to your favorite yogurt for a mid-morning boost.
Ingredients
Vegetable oil 4 cups rolled cut oats
2 cups slivered almonds
1 teaspoon cinnamon
1/2 teaspoon nutmeg
1/2 cup warm water
1/2 cup maple syrup or agave nectar
1 teaspoon vanilla extract
1/2 cup dried cranberries
dried cherries or dried blueberries
Cooking Directions
Preheat oven to 300°F and oil two large sheet pans. In a large bowl, stir together oats, almonds and spices. In a small bowl, stir together warm water, maple syrup and vanilla. Pour the syrup mixture over the nut mixture and stir to combine. Spread mixture onto prepared sheet pans and bake about 30 minutes, stirring every 10 minutes to prevent burning, until granola is crumbly and golden. Remove from oven and immediately stir in dried fruit. Cool and store refrigerated in an airtight container up to one month.
Recipe courtesy of Bethenny Frankel.
This recipe was styled by chef Karen Pickus for Good Morning America.
Recipe Summary
Main Ingredients: oats, almonds, cinnamon, cranberries
Course: Brunch