Mario Batali's 'Big American Cookbook' Black & White Cookies
Try this classic dessert!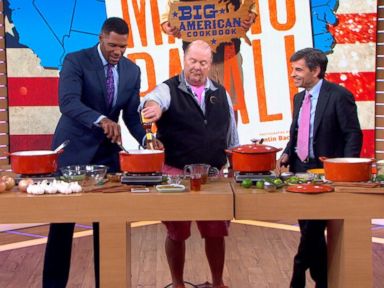 The celebrity chef and co-host of "The Chew" shares recipes from his new "Big American Cookbook."
From the kitchen of Mario Batali
"The Chew" co-host Mario Batali searched all corners of the United States for the recipes in his new "Big American Cookbook." The cookbook features Batali's own twists on 250 recipes from local state fairs, church socials, ethnic groups and more. Try this recipe from "Big American Cookbook" at your next gathering!
Ingredients
For the cookies:
5 cups all-purpose flour
1 teaspoon baking powder
1 1/2 teaspoons kosher salt
1 cup (2 sticks) unsalted butter, softened
1 1/2 cups granulated sugar
4 large eggs
3/4 cup milk
2 teaspoons vanilla extract
For the icing:
4 cups confectioners' sugar
2 tablespoons light corn syrup
1 teaspoon vanilla extract
1/2 cup unsweetened cocoa powder
Cooking Directions
Black & White Cookies, a symbol of New York, were my wife Susi's all-time favorite cookie long before Jerry Seinfeld turned them into metaphor for cultural harmony. Any trip to a bakery or deli in the city should conclude with a few in the bag. Whether they make it home is optional. These will be much better than the deli-bought ones.
For the cookies:
Preheat the oven to 350°F. Line 2 baking sheets with silicon mats or parchment paper. In a large bowl, whisk together the flour, baking powder, and salt.
In the bowl of a stand mixer with the paddle attachment, cream together the butter and granulated sugar until the color turns a pale yellow. Add the eggs, slowly, one at a time. On low speed, add half the flour mixture. When it's mixed in, add half the milk and all the vanilla. Add the rest of the flour, then the rest of the milk.
Using a 1 1/2-inch ice-cream scoop (a generous 2 tablespoons), scoop mounds of batter onto the baking sheets, about 2 inches apart. Using wet fingers, push the batter down to flatten into a round about 2 1/2 inches wide. Repeat until the batter is gone or the sheets are full. Bake for about 16 minutes, until the edges look set and the cookies have a nice tan working. Cool completely on wire racks.
For the icing:
In a large bowl, mix the confectioners' sugar with 1/4 cup warm water. Add the syrup and vanilla and stir vigorously to form a smooth icing. Pour half the icing into a second bowl and add 2 to 3 tablespoons warm water and the cocoa. Mix to make the "black" icing.
Spread white icing on half of each cookie, then spread chocolate icing on the other half.
Recipe styled by Karen Pickus, chef/food stylist, "Good Morning America."
From BIG AMERICAN COOKBOOK by Mario Batali. Copyright 2016 by Mario Batali LLC. Reprinted by permission of Hachette Book Group, Inc.
Recipe Summary
Main Ingredients: flour, butter, sugar, eggs, milk, cocoa powder
Course: Dessert