Mario Batali's 'Big American Cookbook' Pierogies
Try these tasty treats!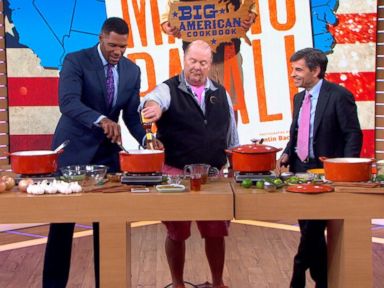 The celebrity chef and co-host of "The Chew" shares recipes from his new "Big American Cookbook."
From the kitchen of Mario Batali
"The Chew" co-host Mario Batali searched all corners of the United States for the recipes in his new "Big American Cookbook." The cookbook features Batali's own twists on 250 recipes from local state fairs, church socials, ethnic groups and more. Try this recipe from "Big American Cookbook" at your next gathering!
Ingredients
2 tablespoons unsalted butter, plus optional 4 tablespoons for pan-frying
1 medium onion, finely diced
1 pound russet potatoes, peeled and cut into 1/2-inch dice
4 ounces sharp Cheddar cheese, shredded
2 tablespoons plus 1/4 cup sour cream, plus more for serving
Kosher salt and freshly ground black pepper
4 cups all-purpose flour
3 large eggs
3/4 cup warm water
Cooking Directions
The good people of Cleveland and Pittsburgh may have little love for each other as a result of their football allegiances, but if they measured themselves by the contributions of their respective Eastern European communities, they'd find they had plenty in common. Take the noble pierogi: cheesy mashed potatoes stuffed in pasta dough. Na zdorovie!
Directions:
In a medium skillet over medium-high heat, melt the 2 tablespoons butter and sauté the onion until softened but not browned, about 4 minutes.
Bring a large pot half-full of water to a boil. Add the potatoes and cook until soft, about 20 minutes. Drain the potatoes and pass them through a ricer into a large bowl. Add the sautéed onions, cheese, the 2 tablespoons sour cream, 1 teaspoon salt, and 1 teaspoon pepper and mix until the cheese is melted and well incorporated.
In the bowl of a stand mixer, combine the remaining 1/4 cup sour cream, the flour, eggs, and warm water and mix until it becomes a pliable dough. Let the dough rest for 15 minutes.
Working with about one-fourth of the dough at a time, roll a piece out on a large, floured surface to about 1/8 inch thick. With a 3-inch round cookie cutter, cut out circles. On each round, place about a tablespoon of the potato mixture, just off center. Fold the dough over to enclose the potato and pinch all along the edge to seal. Repeat to use all the dough and potatoes.
Bring a large pot half-full of well-salted water to a boil over medium-high heat. Working in batches so as to not crowd the pot, drop several pierogies in the water and boil, stirring lightly so they don't stick together, for 3 minutes. They'll float as they finish cooking. Remove and continue cooking until all the pierogies are cooked.
At this point, the pierogies can be frozen, served as is, or pan-fried in the remaining 4 tablespoons butter and served with sour cream.
Recipe styled by Karen Pickus, chef/food stylist, "Good Morning America."
From BIG AMERICAN COOKBOOK by Mario Batali. Copyright 2016 by Mario Batali LLC. Reprinted by permission of Hachette Book Group, Inc.
Recipe Summary
Main Ingredients: butter, onion, potatoes, sour cream, flour, eggs
Course: Dinner, Appetizer/Starter