Mario Batali's 'Big American Cookbook' Texas 'Bowl of Red'
Try this flavorful dish!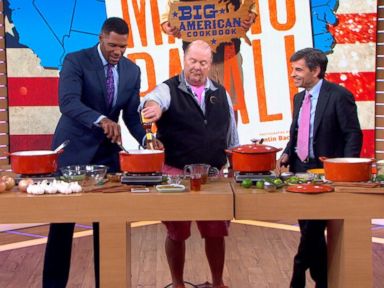 The celebrity chef and co-host of "The Chew" shares recipes from his new "Big American Cookbook."
From the kitchen of Mario Batali
"The Chew" co-host Mario Batali searched all corners of the United States for the recipes in his new "Big American Cookbook." The cookbook features Batali's own twists on 250 recipes from local state fairs, church socials, ethnic groups and more. Try this recipe from "Big American Cookbook" at your next gathering!
Ingredients
8 dried ancho peppers (may substitute a mix, including pasilla and/or guajillo peppers), stems and seeds removed, flesh reconstituted in boiling water for 30 minutes, and drained
3 canned chipotles in adobo
1 cup water
2 tablespoons extra-virgin olive oil, or more if necessary
3 1/2 pounds chuck roast, cut into 1/4-inch dice, or coarsely ground
1 large onion, chopped
4 cloves garlic, thinly sliced
1 (12-ounce) can of beer, preferably Pearl, Lone Star, or Shiner
1 cup Brown Chicken Stock or more if needed
1 tablespoon honey
1 tablespoon ground cumin
2 teaspoons kosher salt, or more to taste
1 teaspoon ground cinnamon
1/4 cup masa harina or corn meal, optional
Sour cream, lime wedges, and tortillas for serving
Cooking Directions
There are rules about chili in Texas. The first one is no beans. When you run into someone who's hardcore, there are no tomatoes. And for the purists, there's no chili powder. This is meant to express the flavor of the fields of chiles on a hot, end-of-summer afternoon, fragrant with the heat punch of the hot breeze.
Directions:
In a blender, puree the reconstituted chiles with the chipotles and water untilsmooth. Set aside.
In a large, heavy pot or Dutch oven, heat the olive oil over medium-high heat. Working in batches, brown the meat and transfer to a bowl.
When all the meat is browned, sauté the onion and garlic until the onion has softened, 5 to 6 minutes. Return the meat to the pot along with the pureed chiles, beer, stock, honey, cumin, salt, and cinnamon. Stir to incorporate. Bring the chili to a boil, then reduce the heat and simmer, uncovered, for 3 hours. If the chili gets too thick, add more stock and cover the pot.
If you'd like the chili a little thicker, ladle about 1 cup of liquid from the pot into a bowl and whisk in the masa harina. Pour the mixture into the chili and stir it in. Raise the heat and stir until it thickens.
Serve with sour cream, limes, and tortillas on the side.
Recipe styled by Karen Pickus, chef/food stylist, "Good Morning America."
From BIG AMERICAN COOKBOOK by Mario Batali. Copyright 2016 by Mario Batali LLC. Reprinted by permission of Hachette Book Group, Inc.
Recipe Summary
Main Ingredients: dried ancho peppers, chipotles, chuck roast, beer, honey, chicken stock
Course: Dinner