The Whole30 Diet: Big turkey meatballs with roasted cherry tomatoes
Try this healthy option from 'The Whole30 Fast & Easy Cookbook'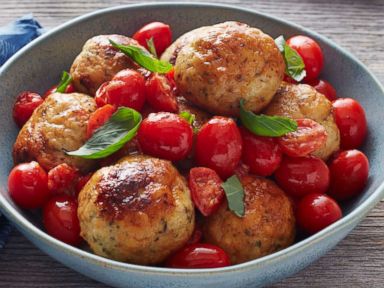 From the kitchen of The Whole30 Fast & Easy Cookbook
The Whole30 diet requires dieters to eat whole foods, meats, and vegetables, and bans sugar, alcohol, grains, legumes, soy and dairy for 30 days. This recipe for big turkey meatballs with roasted cherry tomatoes from "The Whole30 Fast & Easy Cookbook" adheres to the plan.
"What we do is we pull them out for 30 days and it's a pretty strict pull out," Whole30 co-creator and cookbook author Melissa Hartwig told "Good Morning America." "It's like pushing the reset button with your health habits and your relationship with food."
Note: Not only does forming 8 hefty meatballs rather than 24 or 36 smaller ones save time—it also makes for a fun presentation on a serving platter with the roasted cherry tomatoes and fresh basil.
SERVES 3
Ingredients
For the meatballs:
1 1/2 pounds ground turkey
1 large egg
1/2 cup almond flour
2 cloves garlic, minced
2 teaspoons Whole30-compliant Italian seasoning
1 teaspoon fennel seeds, crushed
1 teaspoon black pepper
1/2 teaspoon salt
1 tablespoon extra-virgin olive oil
For the tomatoes:
2 pints red and/or yellow cherry tomatoes
1 tablespoon extra-virgin olive oil
2 cloves garlic, minced
1 teaspoon Whole30-compliant Italian seasoning
1/4 teaspoon salt
1/4 teaspoon black pepper
2 tablespoons chopped fresh basil
Cooking Directions
Preheat the oven to 400°F.
Line a large rimmed baking pan with parchment paper.
Make the Meatballs:
In a large bowl, combine the turkey, egg, almond flour, garlic, Italian seasoning, fennel seeds, pepper, salt, and olive oil. Form into 9 meatballs. Arrange the meatballs on the pan, spacing them evenly. Roast for 20 minutes.
Make the Tomatoes:
Meanwhile, in a medium bowl, combine the cherry tomatoes, olive oil, garlic, and Italian seasoning. Season with the salt and black pepper. Add the cherry tomatoes to the pan around the meatballs. Turn the meatballs and roast for 10 minutes more, or until the tomatoes split and the internal temperature of the meatballs is 165°F.
Top the meatballs and roasted tomatoes with the fresh basil and serve.
Reprinted with permission from "The Whole30 Fast & Easy." Copyright © 2017 by Melissa Hartwig. Used by permission of Houghton Mifflin Harcourt. All rights reserved.
Recipe Summary
Main Ingredients: ground turkey, egg, tomatoes, italian seasoning, garlic, almond flour
Course: Dinner