Home
>
GMA
>
Recipes Home
>
Rachael Ray's Bloody Mary Soup with Pumpernickel Grilled Cheese Croutons
Rachael Ray's Bloody Mary Soup with Pumpernickel Grilled Cheese Croutons
A Scary Good Soup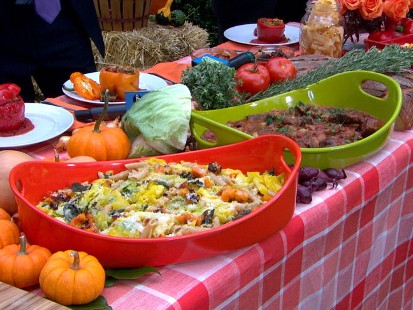 Food Network star shows "GMA" anchors festive recipes timed for Halloween.
From the kitchen of Rachael Ray
|
Celeb chef Rachael Ray has provided hundreds of quick and delicious weeknight dinners over the years, but her new book, "Week In A Day," takes the concept of fast and family-friendly even further, allowing busy cooks to prepare a week's worth of meals in a single day. Try one of these multi-tasking recipes for her Bloody Mary Soup with Pumpernickel Grilled Cheese Croutons.
Ingredients
2 tablespoons EVOO
2 onions, chopped
6 cloves garlic, chopped
3 ribs celery, chopped
1 tablespoon grated lemon zest
2 tablespoons fresh thyme leaves
Celery salt
Coarsely ground pepper
½ cup vodka
2 cups beef stock
2 cups Spicy Hot V8 vegetable juice
2 tablespoons Worcestershire sauce
¼ cup prepared horseradish
1 (28- or 32-ounce) can fireroasted whole or diced tomatoes
Frank's RedHot hot sauce
Butter, softened
8 slices pumpernickel bread
8 deli slices yellow cheddar cheese
Juice of ½ lemon
¼ cup finely chopped fresh flatleaf parsley
Cooking Directions
In a soup pot or large Dutch oven, heat the EVOO (2 turns of the pan) over medium-high heat. Add the onions, garlic, celery, lemon zest, and thyme. Season with celery salt and pepper. Cook until the vegetables are tender, 8 to 10 minutes. Deglaze the pan with the vodka. Add the stock, V8, Worcestershire, horseradish, and tomatoes (break up the whole tomatoes with a potato masher).
Add hot sauce to taste, starting with 1 tablespoon and going up from there if you want. (My family likes things really spicy and we use ¼ cup!) Bring the soup to a boil, then reduce to a simmer and cook for 30 minutes to thicken and combine flavors.
[Make-ahead: Let cool and refrigerate.]
[Night of: Return the soup to room temp before reheating gently over medium heat.]
Heat a large skillet or griddle over medium heat. Spread all 8 slices of the bread on one side with softened butter. Build 4 cheese sandwiches with buttered sides facing out. Grill the sandwiches until the cheese has melted and the bread is deeply crispy. Using a serrated knife, cut each sandwich into 9 croutons. Stir the lemon juice into the hot soup just before serving. Ladle the soup into shallow bowls, sprinkle with parsley, and top with the croutons.
This recipe was styled by chef Karen Pickus for Good Morning America.
Copyright © 2013 by Rachael Ray from WEEK IN A DAY published by Atria Books, a division of Simon & Schuster, Inc.
Other Recipes That You Might Like