Black-Eyed Susan Pie
Try This Mini Pie Tonight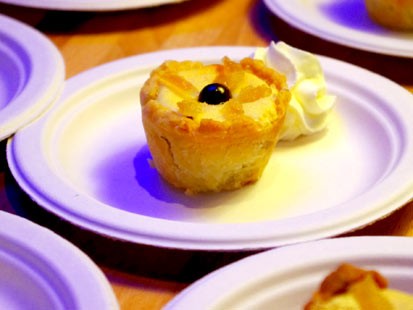 From the kitchen of The Blue Stove
|
Ingredients
pie dough ( 1 standard batch of your preferred pie crust recipe)
1 cup heavy cream
7 oz. bittersweet chocolate sprinkled with sea salt or kosher salt
3 lemons
4 egg Yolks
1 14 oz. can sweetened condensed milk
1/4 tsp. cream of tartar
candied lemon rinds ( available at specialty grocers or make your own!)
Equipment:
mini bite-size muffin/cupcake pan
standard cookie sheet
small saucepan
citrus zester
aluminum foil
stand or hand-held mixer
Cooking Directions
Pre-heat oven to 400F.
Using your preferred pie dough recipe (or pre-made store bought pie crust), divide enough pie dough for one standard large pie crust into 12 even pieces. Easy method: if starting with a ball of dough, cut ball in half then cut both halves into sixths. If using prerolled store bought dough, cut round into 12 equally sized squares.
Place one small ball of dough in each cupcake mold. Using your thumb, press dough into the bottom, and all along the inner walls of the cupcake mold so that the dough has an even thickness on the bottom and walls of the shell. The shell should rise slightly above the rim of the cupcake mold. Continue the same with the other 11. Set aside a small bowl of all purpose flour to dip your fingertips in. This will prevent excess stickiness on your fingers while working with the dough.
Once all the shells are molded, cut aluminum foil into 2" squares. Place one square into each shell and press down with thumb. This will keep the sides from sliding down during baking. Bake shells for 12 minutes. Remove from oven and allow to cool to the touch.
Gently remove shells from cupcake pan and place on cookie sheet. Gently remove foil squares trying not to break the shells. Set sheet of shells aside.
** To cut recipe time in half, use pre-made bite-size tart shells!**
Prepare the chocolate bottoms while shells are cooling. Bring 1 cup of heavy cream just to a boil over medium high heat. Immediately remove from heat. Drop into the cream (do not stir!) the 7 oz of chocolate ( in chips or broken into small chunks) and let sit for 5 min. After 5 minutes stir with a whisk until mixture becomes silky and smooth. Using a small spoon, drop spoonfuls of chocolate mixture into bottom of shells to fill only 1/4 of the shell. Using the back
of the spoon, smooth chocolate around the base of the shell. Allow to cool either in a cool room or place in the refrigerator while preparing lemon filling.
Cool oven to 350F.
Zest 1 whole lemon and set aside. Juice all 3 lemons and set juice aside. Separate 4 egg yolks and place yolks in mixing bowl. Beat yolks on high speed using a whisk attachment until they become lighter in color and thicker in consistency. Add in sweetened condensed milk and continue mixing on high speed until incorporated. Slow mixer to low speed and add in cream of tartar. Once incorporated slowly add in lemon juice. Mix until completely incorporated.
Remove mixing bowl from mixer. Fold in lemon zest using a rubber spatula until evenly dispersed.
Pour lemon mixture directly over chocolate in the pie shells. Put cookie sheet of shells in the
oven and bake for 8-10 minutes. Remove and allow to cool completely.
Decorate tops with a chocolate center using dark chocolate chips. Place candied lemon rinds as petals around the chocolate center. Pies can be kept refrigerated for up to 2 days. Best served at room temperature with a dollop of whip cream on the side!
Recipe courtesy of The Blue Stove.
Other Recipes That You Might Like