Blueberry Muffins
Start the Morning Off Right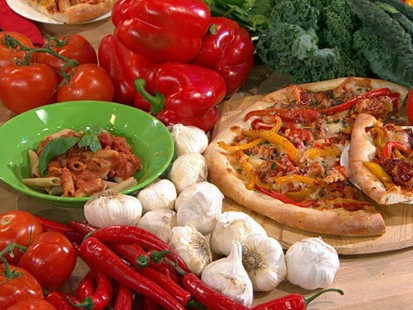 Ellen Kunes, Frances Largeman-Roth explain how to lose weight and eat great.
From the kitchen of The CarbLovers Diet Cookbook
|
Everyone needs a go-to muffin recipe for special mornings. Start with one great basic recipe and add extras for four delicious variations. Try them all!
Ingredients
Base:
¾ cup all-purpose flour
½ cup white whole-wheat flour
½ cup sugar
1¼ teaspoons baking powder
¼ teaspoon ground nutmeg
½ teaspoon salt
1 large egg, lightly beaten
¾ cup soy milk
2 tablespoons vegetable oil
1 teaspoon pure vanilla extract
1 cup fresh blueberries
Cooking Directions
Preheat oven to 400º. Line a 12-cup muffin pan with paper liners.
Combine flours and next 4 ingredients (through salt) in a large bowl; stir with a whisk. Make a well in center of mixture.
Add egg, milk, oil, and vanilla to flour mixture, stirring until just combined Stir in blueberries. Divide batter evenly among prepared muffin pan. Add topping as indicated.
Bake 16-20 minutes or until a wooden pick inserted in the center of a muffin comes out clean. Cool in pans on a wire rack for 5 minutes; remove muffins from pans and cool completely on rack.
Serving size: 1 muffin Calories 121; Fat 3.2g (sat 0.4g, mono 0.7g, poly 1.8g);
Cholesterol 16mg; Protein 3g; Carbohydrate 21g; Sugars 10g; Fiber 1g; RS 0g; Sodium
172mg
Makes 12 muffins.
This recipe was styled by chef Karen Pickus for Good Morning America.
Recipe courtesy The CarbLovers Diet Cookbook.
Other Recipes That You Might Like