One Bowl Mocha Brownies
No-Fuss Clean Up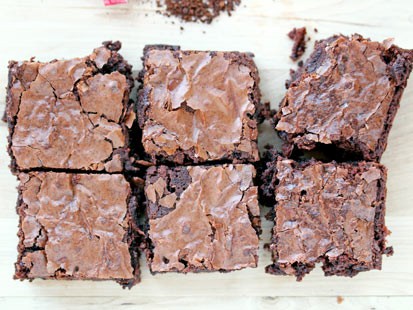 From the kitchen of Erin Chase
"Brownie recipes that call for 3 different bowls are really just annoying. I know brownies might be worth the use of the extra bowls, but what if I told you that you could make the best ever homemade, from scratch brownies using only one bowl. I tried all kinds of methods and tricks before settling in on these, and yes I may have eaten a few too many brownies trying, but someone had to run the quality control, right? So these brownies are moist, melt in your mouth and they've got an extra special pop of flavor from the instant coffee granules that are mixed into the batter. Hope you enjoy them!"
To purchase a copy of Erin Chase's cookbook, "The $5 Dinner Mom One-Dish Dinners Cookbook" visit her site here.
Ingredients
2 ounces semisweet baking chocolate, chopped ($.75)
½ cup butter ($.75)
2 cups chocolate chips, divided ($.99)
1 cup sugar ($.10)
1 teaspoon vanilla ($.03)
½ cup white flour ($.10)
2 Tablespoons cocoa powder ($.05)
½ teaspoon salt
2 eggs ($.20)
1 packet (or 1 Tablespoon) instant coffee granules ($.50)
Cooking Directions
Preheat oven to 350. Grease an 8x8-inch glass baking dish with non-stick cooking spray.
In a large, microwavable mixing bowl, add the chopped baking chocolate, butter and 1 cup of chocolate chips. Microwave on high for 1 ½ minutes. Whisk together the melted butter and chocolate.
To the mixture, whisk in the sugar, vanilla, flour, cocoa powder, salt. Whisk the eggs and instant coffee granules into the batter. Whisk for about a minute, or until the batter is smooth. Fold in the other cup of chocolate chips.
Pour the batter into the greased baking dish. Bake in the preheated oven for 25 to 30 minutes, or until toothpick comes out clean in the center. Let cool slightly before cutting and serving.
Makes 12 brownies.
Cost $3.47
Frugal Fact: Coupons for chocolate chips generally come out during the holidays, so be sure to get as many coupons as you can and stock up on these sweet little gems. Sealed bags of chocolate chips can be stored in the freezer for up to 1 year.
Freezer Friendly
Recipe Summary
Main Ingredients: chocolate, butter, eggs, salt
Course: Dessert
More Info: Kid Friendly