BuzzFeed's Breakfast Lasagna Benedict
"GMA's" Food Mix and Mash-Up!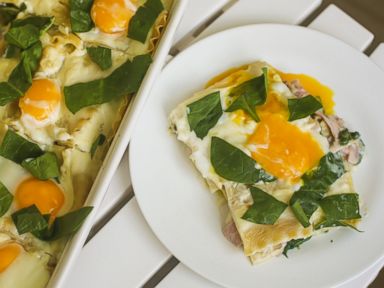 From the kitchen of Christine Byrne
|
Frankenfood mash-ups such as the Cronut, ramen burger and quesarito are all the rage right now -- and we can't get enough! We challenged BuzzFeed's food editors to create the wackiest, most out-there food creations possible, and the results are insanely delicious. Try one of their crazy creations with the below recipe for Breakfast Lasagna Benedict.
Ingredients
5 tablespoons unsalted butter
1/4 cup all purpose flour
4 cups milk
kosher salt and freshly ground pepper
1 8-ounce bag baby spinach
2 7-ounce packages deli ham, cut into strips 1-inch thick
1/2 lb lasagna sheets, cooked al dente according to package directions
8 large eggs
Cooking Directions
Preheat oven to 375 degrees F.
Make a bechamel sauce: Melt butter in a large (at least 3-quart) saucepan over medium heat. When the butter is completely melted, sprinkle in the flour, whisking constantly. Continue to whisk until the mixture is smooth and sticky, about 2 minutes. Gradually add the milk in a steady stream, still whisking constantly. Season with salt and pepper and cook, still whisking, until the sauce is thickened and smooth and can coat the back of a spoon, 5-7 minutes. Turn off the heat, add spinach and stir until the spinach is wilted and completely coated with the sauce. Add sliced ham and stir to combine.
Spray the inside of a 13 x 9-inch baking dish with cooking spray. Arrange half of the pasta sheets in an even layer over the bottom of the dish, then spread half of the bechamel mixture over the pasta. Arrange the remaining pasta in an even layer, then spread with the remaining bechamel mixture. Bake the lasagna in the preheated oven until the top is starting to bubble, about 20 minutes.
Take the lasagna out of the oven, and use the back of a spoon to create 8 evenly spaced craters in spinach/ham/bechamel layer, then crack one egg into each crater. Return the lasagna to the oven and cook until egg whites are opaque and cooked through, but the yolks are still runny, about 10 minutes.
Let the lasagna cool slightly. To serve, cut it into 8 slices, each with an egg on top.
Other Recipes That You Might Like