Chef Marc Forgione's brisket and BBQ coleslaw sliders recipe
Try this slow cooked BBQ favorite!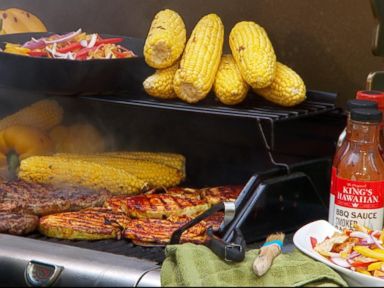 The chef shared some delicious recipes for burgers, brisket sliders and pineapple monkey bread live on "GMA."
From the kitchen of Chef Marc Forgione
Chef Marc Forgione shared his recipe for brisket sliders with BBQ coleslaw. Try the recipe below to make these smokey sliders in your kitchen!
King's Hawaiian is a sponsor of "Good Morning America."
Ingredients
For the Brisket:
4 pounds beef brisket, trimmed
3 tablespoons cumin seeds
[1/2] cup freshly ground coffee
3 tablespoons freshly ground black pepper
3 tablespoons chili powder
2 tablespoons kosher salt
1 tablespoon ground cinnamon
Beef stock
For the BBQ Coleslaw:
1 small head green cabbage, sliced top to bottom (keep root intact) 1/2 inch thick
King's Hawaiian Original BBQ Sauce
1 cup extra-virgin olive oil
1/4 cup red wine vinegar
1 teaspoon Dijon mustard
1 teaspoon chopped garlic, minced
1/2 red onion, finely sliced
1/2 yellow pepper, julienne
1/2 red pepper, julienne
2 tablespoons sesame oil
1 tablespoon toasted sesame seeds
1 tablespoon toasted black sesame seeds
Cooking Directions
For the Brisket:
In a small dry skillet, toast the cumin seeds over low heat until fragrant, about two minutes, making sure to shake the pan frequently. Transfer the cumin to a spice grinder and finely grind. (To toast pre-ground cumin, just warm it up in a dry skillet over medium heat, stirring, until it smells fragrant.) Place the toasted cumin, coffee, pepper, chili powder, salt, and cinnamon in the spice grinder and grind everything together until combined. Rub the spice mixture all over the brisket and place in the fridge covered, overnight if possible.
Preheat oven to 200 degrees.
Put a little stock into a roasting pan large enough to fit the brisket. Place brisket in the pan, fat side up. Cover tightly with foil and cook overnight (at least 8 hours). In the morning, remove the cover and bake at 450 degrees for 40 minutes.
Transfer whole brisket to a cutting board and slice against the grain. Place slices back into the cooking liquid.
For the BBQ Coleslaw:
In a Ziploc bag, carefully toss the cabbage slices with the BBQ sauce until well coated and place into the fridge to marinate overnight.
In a medium sized mixing bowl, whisk together the vinegar, mustard and garlic. Slowly drizzle in the olive oil until emulsified. Season with salt and pepper.
Preheat a grill or grill pan to medium-high heat and brush with oil. Remove the cabbage from the marinade, season with salt and pepper, and grill until nicely charred. Remove the cabbage slices from the grill and slice.
Mix the cabbage together with to tablespoons of the BBQ sauce and the rest of the ingredients, including the red wine vinegar, until well combined.
To assemble:
On a King's Hawaiian roll, place one slice of brisket (you may need to cut them in half or thirds), top with the BBQ coleslaw and serve.
Recipe printed courtesy of Marc Forgione
Recipe Summary
Main Ingredients: beef, king's hawaiian bread, tomato, lettuce
Course: Main Course