'GMA' lunch break: Chef John Deloach's broccoli rabe
Try This Side Dish Recipe!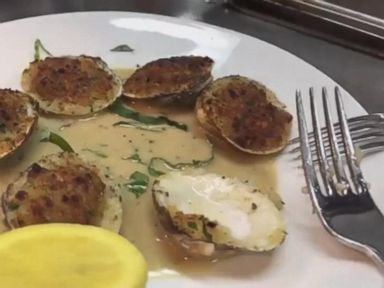 Deloach, the executive chef at LAVO New York, shares some of the restaurant's legendary recipes with ABC News' Gio Benitez.
From the kitchen of John Deloach
"GMA" caught up with chef John Deloach, the executive chef at LAVO, for lunch in New York City. Try Deloach's for broccoli rabe with garlic and olive oil.
Watch the "GMA" Lunch Break live stream on ABCNews.com/live and the GMA Facebook page every Monday, Wednesday and Friday at 12:30 p.m. ET.
Ingredients
8 oz Cooked Broccoli Rabe
2 oz Chicken Stock
1 oz Olive Oil
Red Pepper Flakes
Salt
1/2 oz Chopped Garlic
Cooking Directions
Saute garlic in hot oil. Add broccoli rabe.
Add chicken stock and cook until tender.
Season with salt and red pepper.
Garnish with lemon crown.
Plating Information
Remove broccoli rabe from pan and arrange on a 13-inch oval and add half the broth and serve.
Recipe courtesy John Deloach/LAVO.
Recipe Summary
Main Ingredients: broccoli rabe, lemon, red pepper flakes, garlic
Course: Side Dish, Vegetable