Tasting Table's Broiled Oysters with Garlic-Butter Sauce
Food Is Love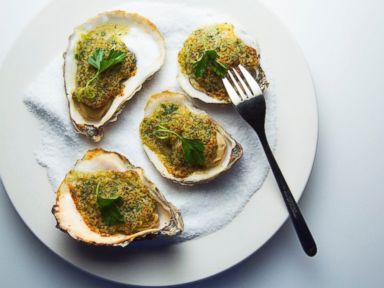 From the kitchen of Tasting Table
|
Valentine's Day is your opportunity to do it up—whether flying solo, with friends or a loved one—in the kitchen. Go big this year with deceivingly easy and romantic recipes like these Broiled Oysters with Garlic-Butter Sauce from the Tasting Table test kitchen.
Ingredients
1 dozen oysters
1 garlic clove, minced
1 small shallot, peeled and minced
Grated zest of 1/2 lemon
3 tablespoons finely chopped flat-leaf parsley
6 tablespoons unsalted butter, cut into small chunks, room temperature
1/4 teaspoon fine sea salt, plus more to taste
1/8 teaspoon freshly ground black pepper, plus more to taste
1 teaspoon Cognac
1/3 cup dry bread crumbs
Cooking Directions
Set an oven rack 4 inches below the broiler and preheat the broiler to high.
Scrub the oysters and rinse under cold running water. Set them flat-side up on a rimmed baking sheet. Broil until they just open, about 4 minutes. Let cool slightly.
Remove the top flat shell of each oyster and discard, keeping as much of the oyster liquid in the bottom shell. Release each oyster from the tough muscle attached to the bottom shell and set the oyster back into the half shell. Remove any shell fragments that may have fallen in. (If oyster liquid spilled onto the baking sheet, transfer the oysters in their half shells to another baking sheet, strain the spilled liquid through a fine-meshed strainer and pour back over the oysters.)
In a mixing bowl, combine the garlic, shallot, lemon zest, parsley, butter, salt and pepper. Mix in the Cognac and season to taste with more salt and pepper. Stir in the bread crumbs.
Spread a scant 1 tablespoon of the butter mixture on top of each oyster. Broil until the bread crumbs are toasted, 3 to 4 minutes. Let cool slightly, then serve.
Recipe courtesy Tasting Table test kitchen.
Other Recipes That You Might Like