Broiled Pumpkin With Apples
A Hearty Dish Featuring All Your Fall Favorites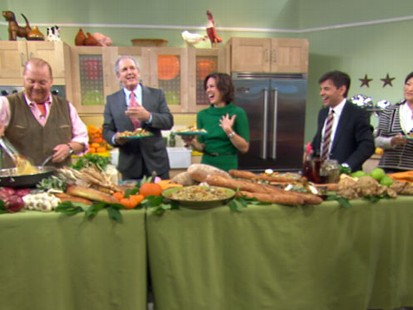 Mario Batali has tips to spice up your family's big feast this holiday.
From the kitchen of Mario Batali
|
Get ready for fall with this excellent butternut squash dish. It also features apples, roasted and fresh sage.
Ingredients
1 cup apple cider
2 pounds butternut squash, peeled, cut lengthwise in half, seeded, and cut into ½-inch pieces
2 medium granny smith apples, peeled, quartered, cored, and cut into ½-inch pieces
3 tablespoons extra virgin olive oil
Maldon or other flaky sea salt and coarsely ground black pepper
2 tablespoons Asian fish sauce
2 tablespoons sherry vinegar
2 tablespoons finely chopped fresh sage
Cooking Directions
Preheat the broiler. Toss the squash with 2 tablespoons of the oil in a large bowl and season with salt and pepper. Spread the squash out on a baking sheet in a single layer (set the bowl aside) and broil, stirring occasionally, until lightly charred in spots and beginning to soften, about 10 minutes. Toss the apples with the remaining 1 tablespoon oil and season with salt and pepper. Toss with the squash on the baking sheet and cook, stirring occasionally, until the squash and apples are tender. Return to the bowl.
Meanwhile, bring the cider to a boil in a small saucepan and boil until it is syrupy and reduced to 2 tablespoons. Remove from the heat.
Combine the reduced cider, fish sauce, vinegar, and sage in a small bowl and whisk well. Pour over the squash and apples, tossing to coat. Serve, or let stand at room temperature for 1 hour to bring out the flavors. (The squash and apples can be refrigerated for up to 3 days; bring to room temperature before serving.)
Other Recipes That You Might Like