Home
>
GMA
>
Recipes Home
>
Brooklyn Beer Chili Burgers with Smoky Barbecue Sauce, Oil and Vinegar Slaw and Spicy Kirby Cucumber Slices
Brooklyn Beer Chili Burgers with Smoky Barbecue Sauce, Oil and Vinegar Slaw and Spicy Kirby Cucumber Slices
Rachael Ray's Favorite Burger Recipe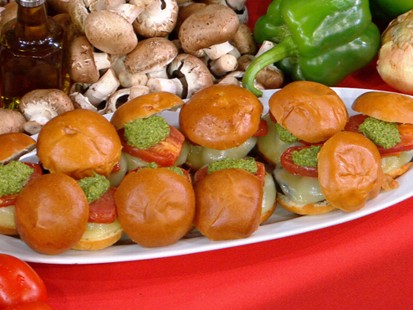 The TV chef prepares some tasty sliders with barbecue sauce and cucumber slaw.
From the kitchen of Rachael Ray
|
These fabulous sliders were served at Rachael's 2010 Feedback Picnic Party.
Ingredients
1 cup plus 4 1/2 tablespoons cider vinegar, divided
1/4 cup sugar
1 teaspoon sea salt
1 teaspoon black peppercorns
3 cloves garlic, 1 halved, 2 finely chopped, divided
2 dried bay leaves
1 red chili pepper, sliced, such as a Fresno pepper or red jalapeño pepper
4 kirby cucumbers, sliced 1/4-inch thick
1 small red onion, thinly sliced, divided
3 sprigs fresh dill
1 tablespoon celery seed (a palmful)
1 tablespoon mustard seed (a palmful)
1/2 pound shredded cabbage slaw salad mix, with carrot and purple cabbage mixed in
4 tablespoons vegetable oil, divided
Salt and pepper
1 cup ketchup
2 tablespoons dark brown sugar
2 tablespoons pure maple syrup (dark amber)
6 tablespoons Worcestershire sauce, divided
1 teaspoon smoked sweet paprika (1/3 palmful)
Coarse black pepper
2 pounds ground sirloin
1 teaspoon steak seasoning, such as McCormick Montreal Steak Seasoning or coarse salt and black pepper
1 teaspoon dried marjoram or Mexican oregano
1 teaspoon dried thyme
2 tablespoons ancho chili pepper powder (a couple of palmfuls)
1/2 cup beer, such as Brooklyn Ale or similar type ale
12 brioche rolls or slider rolls, such as Pepperidge Farm brand
12 slices sharp yellow cheddar cheese, for topping (optional)
Cooking Directions
Heat 1 cup cider vinegar and the sugar, sea salt, peppercorns, halved garlic and bay leaves in a small pot diluted with about 1/3 cup water. Bring to a boil, then reduce the heat to low and simmer for 5 minutes. In a small storage container, add the red chili pepper, kirby cucumbers, half of the red onion and dill; sprinkle in a little celery seed and mustard seed and pour the hot brine over the cucumbers. Cool, cover and chill, shaking every once in a while, overnight.
When you are ready to make the burgers, dress the slaw and the remaining half of the red onion with 3 tablespoons cider vinegar, 3 tablespoons vegetable oil, salt and pepper.
Place the ketchup, finely chopped garlic, dark brown sugar, maple syrup, 2 tablespoons Worcestshire sauce, 1 1/2 tablespoons cider vinegar, smoked sweet paprika and coarse black pepper in a small pot and cook over medium-low heat for 15-20 minutes to thicken the sauce and combine the flavors.
Meanwhile, place the meat in a bowl and season with Montreal Steak Seasoning or season with coarse salt and pepper. In a small bowl, combine the remaining Worcestershire sauce with the herbs, chili powder and beer; pour over the meat and mix thoroughly.
Form 12 sliders (approximately 2 1/2-3 inches in diameter or about 2 1/2 ounces each) and drizzle with the remaining vegetable oil. Grill or griddle the burgers for a few minutes on each side and baste liberally with barbecue sauce. If you prefer cheeseburgers, melt the cheddar over top.
Place the burgers on the brioche or slider rolls and top with a little slaw and a slice of pickle.
Note: This recipe makes 12 sliders, but makes enough slaw for 20 sliders and at least 50 pickle slices. You will need to marinate the pickle slices overnight.
Food styled by Karen Pickus
Other Recipes That You Might Like