Daphne Oz's Better Brownies
Try this tasty treat!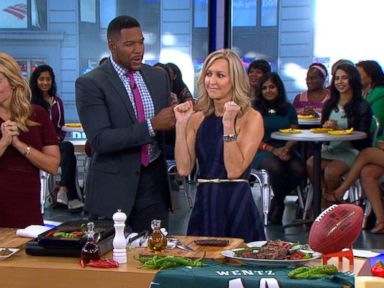 Oz, who co-hosts "The Chew," discusses how to make cooking relaxing and fun - and she shares some of her delicious recipes!
From the kitchen of Daphne Oz
Daphne Oz is a bestselling author and Emmy Award-winning cohost of ABC's "The Chew." Her new cookbook, "The Happy Cook: 125 Recipes for Eating Every Day Like It's the Weekend," features healthy and delicious timesaving recipes. Try this recipe in your own kitchen!
Ingredients
1 large sweet potato
One 15-ounce can black beans, drained and rinsed
3 tablespoons unsalted butter, melted
2 large eggs
1/2 cup packed dark brown sugar
1 teaspoon pure vanilla extract
1/2 cup semisweet chocolate chips
1/3 cup hot coffee
3/4 cup unsweetened cocoa powder
1/2 teaspoon baking soda
1 teaspoon kosher salt
Cooking Directions
If I could eat only one dessert for the rest of my life, it would probably be an extra fudgy brownie, warm from the oven, with a scoop of homemade vanilla ice cream on top. If only I could eat this dessert as often as I would like (every day . . . maybe every meal). Sadly, this cannot be. So I came up with my version of a brownie that lets me celebrate my love of this decadent chocolate beast and feel good every bite of the way.
Black bean puree is the unsung hero of extra fudgy brownies, and it happens to be insanely good for you. Craziest of all, these brownies contain zero flour! Sweet potato here might seem a little strange— but get to know her; she'll help make these sweet and seductively moist while loading you up on healthy vitamins and minerals. I hesitate to call these "brownies you could eat for breakfast" . . . but I sometimes do (it's kind of the best part if you're cleaning up after a dinner party the next morning before anyone else is awake— just you, a frothy cappuccino, and the last left over brownie bite!). So you know I won't judge you.
Directions:
Preheat the oven to 350 degrees F. Lightly coat 24 cups of a mini- muffin tin with 1 tablespoon melted butter.
Puree the black beans in a blender or food processor until smooth and creamy. Measure ½ cup of black bean puree and reserve the remaining for use with tacos or nachos or as black bean dip. Prick the sweet potato a few times with a fork and microwave until it is completely soft and tender, about 7 minutes. Scoop out the flesh, set 1 cup in a large bowl, and add the black bean puree. Whisk in the melted butter, eggs, brown sugar, and vanilla.
Add the chocolate chips to a small bowl and pour the hot coffee on top. Stir until melted, then add it to the sweet potato mixture.
In another bowl, combine the cocoa powder, baking soda, and salt. Add the cocoa mixture to the sweet potato mixture and stir just until combined.
Use a spoon to fill the muffin cups three- quarters full (you'll have enough batter for 24 mini- muffins). Bake for about 12 minutes, or until a cake tester inserted into the center of a brownie comes out with a few moist crumbs attached and the brownies resist light pressure. Let the brownies cool in the pan for 5 minutes, then turn them out onto a wire rack to cool. Repeat with any remaining batter. The brownies will keep in an airtight container for up to 3 days.
From THE HAPPY COOK by Daphne Oz. Copyright © 2016 by Daphne Oz. Reprinted by permission of William Morrow, an imprint of HarperCollins Publishers.
Recipe styled by Karen Pickus, chef/food stylist, "Good Morning America."
Recipe Summary
Main Ingredients: sweet potato, black beans, butter, eggs, chocolate chips, hot coffee, cocoa powder
Course: Dessert