Emeril Lagasse's Bruschetta With Mozzarella, Tomatoes and Olives
Try this dish!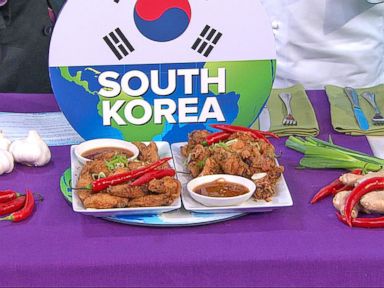 Lagasse is live in Times Square to share dishes from his travels for "Eat the World," an original, unscripted docu-series that follows the chef on a global culinary journey.
From the kitchen of Emeril Lagasse
Emeril Lagasse is traveling the world for his new show, "Eat the World With Emeril Lagasse." The chef is joined by friends from Mario Batali to Marcus Samuelsson as he searches for the best local foods in the six-episode Amazon series. Lagasse appeared on "Good Morning America" today to share recipes from some of the cuisines he tasted. Try this recipe in your home!
Ingredients
1 pound ripe tomatoes, cored, seeded and diced
3 tablespoons minced Kalamata olives
1 tablespoon minced shallot
8 ounces fresh mozzarella diced
Salt and freshly ground black pepper
1/3 cup red wine vinegar
3/4 cup extra virgin olive oil
2 cloves garlic, crushed
One baguette cut into 30 ½-inch thick slices
1/2 cup sliced basil
Cooking Directions
Preheat the oven to 400° F.
Combine the tomatoes, olives, shallot and mozzarella in a bowl. Season with salt and pepper then stir in the vinegar and ½ cup of the olive oil and set aside.
Combine the crushed garlic with the remaining 1/4 cup olive oil and set aside.
Place the baguette slices on a baking sheet and bake in the oven until crisp, about 15 minutes. Remove from the oven and brush generously with the garlic and oil. If any garlic or oil remains, add it to the tomato mixture. Fold in the basil and season with salt and pepper.
Serve the toast slices on a large platter with the tomato mixture alongside for guests to spoon over the toasts.
Recipe courtesy Emeril Lagasse, copyright MSLO, Inc., all rights reserved.
Food styling by Karen Pickus for "Good Morning America."
Recipe Summary
Main Ingredients: tomatoes, mozzarella, kalamata olives, garlic
Course: Appetizer/Starter