'GMA' Super Snack Showdown: Patriots Fan Dawn Collins' Buffalo Chicken Wontons
Watch the Video to Learn How to Make Patriots Fan Dawn Collins' Game Day Dish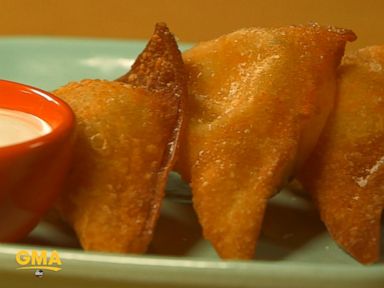 Watch this step-by-step video to learn how to make this recipe from GMA viewer and New England Patriots fan Dawn Collins.
From the kitchen of Dawn Collins
As the Falcons and the Patriots prepare to face off on the field, "Good Morning America" is having two fans face off with their best game day food!
Representing the New England Patriots is fan Dawn Collins, a mother of two from Boston who developed this dish for her buffalo chicken-loving daughter. "The slightly creamy buffalo chicken and the light crispy wonton work great together," Collins said.
Ingredients
Wonton wrappers
1 1/2 cups chopped chicken breast
5 tbsp Franks buffalo sauce wings
1 cup vegetable oil
3 tbsp crumbled blue cheese
2 tbsp chopped fresh chives
2-3 tbsp shredded carrot
2 tbsp blue cheese dressing (I used Ken's)
Cooking Directions
Finely chop chicken breast meat. (I use a rotisserie chicken breast, which made this a super quick and easy recipe.)
In a medium size bowl combine chopped chicken, buffalo sauce, crumbled blue cheese, chives, carrot and dressing.
Add about a teaspoon of chicken mixture to center of the wonton wrapper. Using your finger tip, dip in water and moisten the border of wrapper. Fold over and press down to seal edges.
Heat oil in frying pan on med/high, add chicken wontons. These cook very quickly. As soon as you see the corners turn golden brown flip over. Just a minute or two per side.
Sprinkle with a little salt as soon as they come out of oil.
Serve with blue cheese dressing for dipping of course.
Pro Tip: Wonton wrappers can dry out pretty quickly, so keep them covered while your working.
This recipe made 22 wontons.
Recipe courtesy of Dawn Collins.
Recipe styled by Karen Pickus, chef/food stylist, "Good Morning America."
Recipe Summary
Main Ingredients: wonton wrappers, chicken breast. buffalo sauce, vegetable oil, blue cheese
Course: Party Platter, Appetizer/Starter