Butterscotch Blondies With Chocolate Chips and Goji Berries
This Easy-to-Make, Healthy Dessert Tastes Like the Real Thing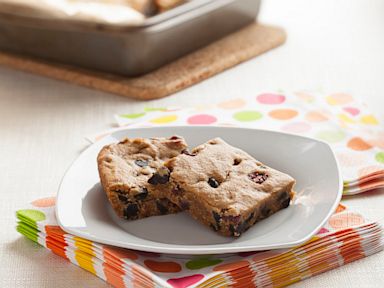 From the kitchen of Ricki Heller
|
Going gluten-free? Ricki Heller's butterscotch blondies are gluten-free and vegan, but taste just like the real thing.
"These are a favorite dessert in our house. They are rich tasting and chewy, and the combination of lucuma with coconut sugar and coconut nectar is, I think, very reminiscent of butterscotch. I love using dried, super-healthy goji berries in these bars, but dried cherries or cranberries work just as well. In fact, feel free to stir in any additions you like, as long as you keep the same proportions. For instance, one alternative I really enjoy is pistachios and chopped dried apricots." -- Ricki Heller
Ingredients
1 cup (135 g) Ricki's All-Purpose Gluten-Free Flour Mix (see below)
3/4 cup (75 g) whole oat flour (see note)
3 Tbsp (45 ml) lucuma powder (may substitute with carob powder; note the color will be darker)
1 tsp (5 ml) baking powder
1/2 tsp (2.5 ml) baking soda
1/4 tsp (1 ml) fine sea salt
1 tsp (5 ml) xanthan gum (use only Bob's Red Mill brand if you are concerned about a corn allergy)
1/4 cup (25 g) coconut sugar
1 Tbsp (15 ml) water
1/2 cup (120 ml) coconut nectar
1/2 tsp (.5 ml) pure stevia powder or
1/4 tsp (1 ml) pure plain or vanilla stevia liquid, or to taste
1/3 cup (80 ml) sunflower or other light-tasting oil, preferably organic
1 Tbsp (30 ml) pure vanilla extract
1/4 tsp (1 ml) rum, butterscotch, or brandy flavoring (optional)
1/2 cup (100 g) unsweetened carob chips or dairy-free dark chocolate chips
1/3 cup (80 ml) dried goji berries, cherries, cranberries, or dried fruit of your choice
For the Gluten-Free Flour Mix:
2 cups (270 g) millet flour (see note)
2/3 cup (100 g) garfava flour (you can use chickpea instead)
2/3 cup (120 g) potato starch
2/3 cup (90 g) arrowroot starch or powder (or substitute tapioca or cornstarch)
Cooking Directions
Preheat the oven to 325 degrees F (170C). Line an 8-inch (20-cm) square pan with parchment paper, or spray well with nonstick spray.
In a medium bowl, sift together the flours, lucuma powder, baking powder, baking soda, salt, and xanthan gum.
In a large bowl, mix the coconut sugar and water until the sugar begins to dissolve. Add the coconut nectar, stevia, oil, vanilla, and flavoring, if using, until well blended. Gently stir in the chips and gojis.
Pour the dry mixture over the wet ingredients and stir to blend. You will have a thick and sticky batter. Turn the batter into the prepared pan and smooth the top.
Bake for 20 to 25 minutes, rotating the pan about halfway through baking, until a tester inserted in the center comes out just barely clean (a moist crumb or two is fine). Take care not to overbake, as these will dry out! The top may fall a little as it cools; this is fine. Allow to cool completely in pan before cutting into squares. Store, covered, in the refrigerator up to 5 days. May be frozen.
Note: You can easily make your own oat flour by grinding certified gluten-free rolled oats in a coffee grinder until powdered.
For Ricki's All Purpose Gluten-Free Flour Mix:
I created this mix after examining the protein (i.e., gluten) content of regular wheat-based all-purpose flour; I wanted a product that would approximate the same ratio of protein to starch as exists in the wheat-based product. This mix of grain, legume, and starches matches the values of wheat flour almost perfectly. I usually mix up a double batch of the flour at a time (I bake a lot!), then store it in a covered plastic food container for easy scooping.
Place all ingredients in a large bowl and stir with a whisk until the flour is evenly blended. Store in an airtight container in the refrigerator if you won't be using it within a week or 10 days (will keep up to 6 weeks in the fridge). Measure as you would wheat-based all-purpose flour. Makes 4 cups.
Note: you can easily make your own millet flour by grinding whole millet grain in a coffee grinder until powdered.
Recipe courtesy of "Naturally Sweet & Gluten Free, Allergy-Friendly, Vegan Desserts," by Ricki Heller. Photographs by Celine Saki.
Recipe Summary
Main Ingredients: millet flour, whole oat flour, potato starch, arrowroot starch, coconut sugar, unsweetened carob chips, coconut nectar, dried goji berries, cherries, cranberries,
Course: Dessert
More Info: Vegan, Wheat/Gluten Free
Other Recipes That You Might Like