Food Blogger Amy Dong's Buttery Jam Thumbprint Cookies
Try This Popular Christmas Cookie!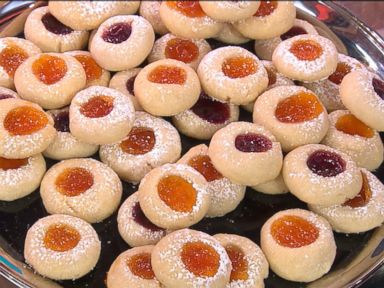 The recipe for "Chew Out Loud" food blogger Amy Dong's Buttery Jam Thumbprint Cookies is this year's most-saved holiday cookie recipe on Pinterest.
From the kitchen of Chew Out Loud/Amy Dong
Ingredients
1 cup salted butter, softened
1/2 cup confectioners' (powdered) sugar, plus 1/4 cup more for dusting
2 teaspoons pure vanilla extract
1/4 tsp table salt
2 cups all purpose flour
1/2 cup fruit preserves (I used raspberry, blackberry, and peach)
Cooking Directions
"These little cookies pack a powerful punch of buttery flavor! These Buttery Jam Thumbprint Cookies are tender, melt-in-your-mouth buttery, and generously filled with your favorite choice of jam. Perfect for the holidays."
Preheat oven to 325°F. Line a baking sheet with parchment paper.
In the bowl of a stand mixer fitted with paddle attachment, blend butter and sugar until fluffy and light, 2 minutes. Add vanilla and salt, scraping down bowl as needed. Switch to low and gently mix in flour, just until combined. Don't over mix.
Roll tablespoonfuls of dough into 1-inch balls. Place dough balls on parchment lined baking sheets. Press down the center of each ball with a spoon (or your thumb!) making a slight depression.
Fill cookie centers with a teaspoonful of preserves. Bake 12-15 minutes or until golden brown and puffy, but take care not to overbake. Let cool a few minutes on baking sheet, then transfer to finish cooling on wire rack.
When cookies are completely cooled, dust with confectioners' sugar. Cookies can be kept in airtight container at room temp for a few days.
Reprinted with permission from Chew Out Loud, adapted from Mrs. Field's Cookie Book.
Recipe styled by Karen Pickus, chef/food stylist, "Good Morning America."
Recipe Summary
Main Ingredients: salted butter, table salt, confectioners' sugar
Course: Dessert