The Cake Boss' Black and White Cookies
Try This Classic New York Cookie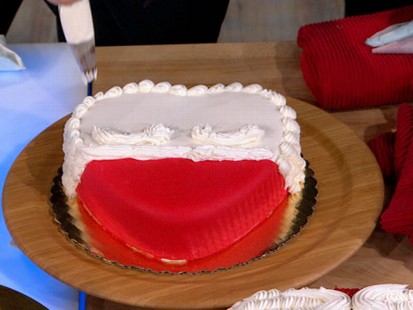 "The Cake Boss" shares some tricks and recipes from his book.
From the kitchen of Buddy Valastro
Black and white cookies, topped with half white fondant, and half chocolate, have a deep heritage in New York City, but their popularity has spread over the years, and they're a constant good-seller at Carlo's.
If you've ever had a black and white cookie, then you might have noticed something different about them. They're spongier than most other cookies, almost springy to the touch. When Mike Vernola, known around Carlo's Bake Shop as Old Man Mike, brought this recipe to the family, he explained to me what made it so unique: It's a cake recipe that's adapted to make a cookie by increasing the ratio of flour to wet ingredients so it doesn't rise as much as a cake would in the oven.
Ingredients
3/4 cup plus 2 tablespoons sugar
1/2 cup unsalted butter
2 extra large eggs
1/2 cup milk
1/4 teaspoon pure vanilla extract
1/8 teaspoon freshly squeezed lemon juice
1 1/4 cups cake flour
1 1/4 cups all-purpose flour
1/2 teaspoon baking powder
1/4 teaspoon salt
1/4 cup water
2 cups powdered (10x) sugar
2 tablespoons semisweet chocolate chips or 1/2 ounce semisweet chocolate, coarsely chopped
Cooking Directions
Position a rack in the center of the oven and preheat to 340°F.
Cream the sugar and butter together in a stand mixer fit with the paddle attachment. (You can use a hand mixer if you let the butter soften at room temperature before beginning.) Add the eggs, 1 at a time, paddling about 1 minute after each egg is added, then stopping after each one to scrape. Add the milk, vanilla, and lemon juice and paddle just until they are absorbed into the mixture.
Put the cake flour, all purpose flour, baking powder, and salt in a separate bowl. Sift them together and add them to the mixer's bowl. Paddle just until they have been absorbed by the mixture and it is smooth and consistent.
Line two cookie sheets with parchment paper, using nonstick spray or a dab of butter in each corner to "glue" the paper in place.
Use 2-ounce ice cream scoop to scoop batter onto the parchment paper, laving 2 inches between each cookie.
Bake in batches until the cookies are lightly golden brown, about 18 minutes. Remove the cookie sheets from the oven and as soon as the cookies can be moved, use a spatula to transfer them to a rack and let them cool.
Transfer the cookies to plates and place in the freezer for about 10 minutes to firm them up.
Meanwhile, bring the water to a boil in a double boiler set over simmering water. Whisk in the sugar until the mixture is a uniformly smooth and white. Use a spatula to ice half of the top of each cookie, using the edge of the spatula or the tip of a thin-bladed knife to make a straight edge. (If the icing seizes up, simply return it the pot over the double boiler over low heat and whisk to reinvigorate.)
Return the pot to the double boiler and stir the chocolate into the remaining icing until it melts and is blended in. Spread the chocolate frosting over the other half of each cookie.
The cookies may be enjoyed right away, or kept in an airtight container at room temperature for up to 3 days.
Recipe courtesy Buddy Valastro.
This recipe was styled by chef Karen Pickus for Good Morning America.
Recipe Summary
Main Ingredients: chocolate chips, sugar, butter, flour, eggs
Course: Cookies