The Cake Boss' Cannoli
Try This Italian Holiday Classic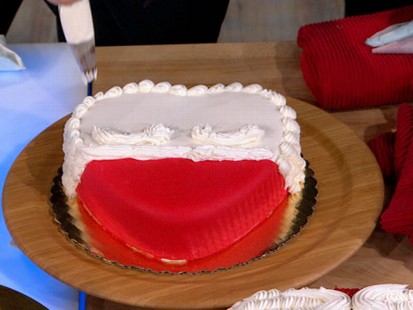 "The Cake Boss" shares some tricks and recipes from his book.
From the kitchen of Buddy Valastro
This traditional italian dessert is not as difficult as it looks to make. Make these for your family this holiday season!
Ingredients
1 cup all purpose flour, plus more for dusting dough and work surface
3 tablespoons granulated sugar
2 tablespoons lard plus several cups for frying; may be replaced with vegetable shortening, exact amount will depend on size of your pot
2 tablespoons distilled white vinegar
2 extra-large eggs
1/4 teaspoon ground cinnamon
1/4 teaspoon fine sea salt
3 cups cannoli cream
Powdered (10x) sugar for dusting cannolis
Cooking Directions
Makes 10 cannolis.
Put the flour, granulated sugar, 2 tablespoons of the lard, vinegar, 1 egg, cinnamon, and salt into a stand mixer fitted with the hook attachment and mix on low-medium speed until well combined, approximately 10 minutes. (There is no need to stop the motor to scrape the sides because this dough will pull together into a ball when it's ready.)
Remove the dough from the bowl, wrap it in plastic wrap and let rest at room temperature for at least 30 minutes or up to 3 hours, to soften the dough and make it less elastic.
Lightly coat the dough with flour and roll it through a pasta machine set to the thickest setting (usually Number 1). If you do not have a pasta machine, use a rolling pin to roll the dough out as thinly as possible on a lightly floured surface to no more than 1/8-inch thick. Cut 5-inch-long ovals from the dough (see How To). Gather up the excess dough, knead it together, roll it out, and cut ovals again. You should have 10 ovals.
Wrap 1 oval lengthwise around a 6-inch-long wooden dowel with a diameter of 3/4-inch to 1-inch. Be very careful to wrap it loosely, leaving a little space between the dowel and the pastry dough so that, when fried, the inside will be cooked as well.
Beat the remaining egg in a small bowl and use a pastry brush to paint one end of the shell with the egg. Pull the egg-brushed end over the opposite end, and press them together, sealing the shell around the dowel.
Line a large plate or platter with paper towels.
Fill a wide, deep, heavy pot two-thirds full with lard and set over medium-high heat. Heat the lard to a temperature of 350 degrees F to 375 degrees F.
Carefully lower the dowel into the oil and let fry until golden-brown, turning it as it fries with a slotted spoon, approximately 10 minutes. Use the spoon to very carefully remove the dowel from the lard and transfer to the paper-towel lined plate to cool.
When the shell is cool enough to touch, approximately 10 minutes, pull the dowel out.
Repeat steps 8 and 9 until all shells have been fried and removed from the dowel. (The shells may be held in an airtight container at room temperature for up to 3 months; I urge you to not fill the cannoli more than 1 hour before serving them or they may become soggy.)
When ready to fill and serve the cannoli, put the pastry cream into a pastry bag fitted with the #7 plain tip. Pipe filling into each shell until it is filled and the cream sticks out both ends.
Dust the finished cannoli with powdered sugar and serve.
Recipe courtesy Buddy Valastro.
This recipe was styled by chef Karen Pickus for Good Morning America.
Recipe Summary
Main Ingredients: flour, shortening, powdered sugar
Course: Dessert