The Cake Boss' Fennel and Apple Salad
A Great Thanksgiving Salad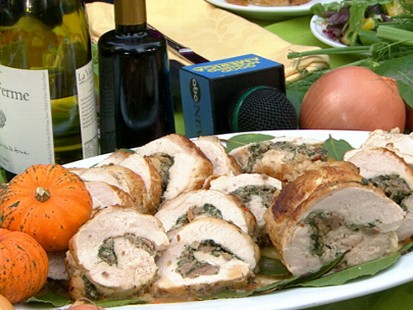 "Cake Boss" star prepares his family's favorite fennel and apple salad for Thanksgiving.
From the kitchen of Buddy Valastro
|
Fennel isn't the most popular vegetable in the United States, but if you go to a grocery store in your town's Little Italy, you'll find that it's right up there with onions and carrots, celery and garlic, piled just as high in its bin as those other, better known ingredients. Fennel has a gentle anise flavor, just a hint of licorice in the most unlikely place you'd expect to find it: a crunchy green vegetable. You can sauté fennel, braise it, or grill it, but it's also terrific raw. And it has beautiful fronds that look like fresh dill that you can chop up and scatter over finished dishes the way you would top food with chopped parsley.
If you have some terrific extra-virgin olive oil, you can simply shave some fennel and dress it with oil, salt, and pepper. There's also a popular salad that pairs it with green apple. This salad, based on one they used to serve at Macaluso's—a popular catering hall in New Jersey that was a huge Carlo's Bake Shop account for many years—makes that combination the basis of a full-blown salad with mesclun greens, orange sections, and toasted pine nuts. This is a real crowd pleaser, and will turn everybody who eats it into a bona fide fennel lover.
For more recipes, check out "Cooking Italian with the Cake Boss."
Ingredients
¼ cup freshly squeezed lemon juice, from 2 large lemons
1 large fennel bulb, halved and cored
1 large Granny Smith apple, halved through the stem end and cored
3 small to medium navel oranges, peeled, separated into segments, skin and membrane removed, cut into further segments, juice squeezed from membranes and reserved
2 tablespoons champagne vinegar or white wine vinegar
Kosher salt
Freshly ground black pepper
1½ cups extra-virgin olive oil
6 large basil leaves, cut into chiffonade
1 medium shallot, minced
5 ounces mesclun greens, well washed and spun dry
3 tablespoons pine nuts, toasted
Cooking Directions
Half fill a large bowl with cold water and stir in 2 tablespoons lemon juice.
Shave the fennel across the grain as thin as possible, ideally on a mandoline or with a very sharp, heavy chef 's knife and a steady hand. Add the slices to the acidulated water to keep them from browning. Slice the apple in the same manner, and add the slices to the water.
Add the orange juice, remaining 2 tablespoons lemon juice, and vinegar to a bowl. Add a pinch of salt and pepper. Whisk in the oil. Taste the dressing, and adjust if necessary. Stir in the basil.
Drain the apple and fennel slices in a colander, pat dry gently with paper towels, and transfer to a large, wide salad bowl or serving bowl. Add ¾ of the orange segments, the shallot, and the greens. Season with salt and pepper and toss with salad tongs or 2 wooden spoons. Drizzle the vinaigrette over the salad and toss. Taste and adjust the seasoning, if necessary, and toss one last time.
Divide the salad among 4 to 6 plates, garnish with the pine nuts and reserved orange segments, and serve.
Recipe courtesy Buddy Valastro.
This recipe was styled by chef Karen Pickus for Good Morning America.
Other Recipes That You Might Like