Candy-Filled Maraca Cookies
Shake Things Up This Cinco de Mayo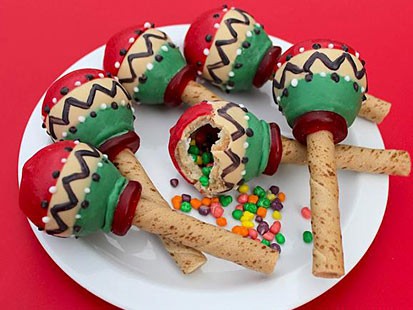 From the kitchen of SheKnows
|
Celebrate Cinco de Mayo this year with these adorable maraca cookies from SheKnows.com. For a full step-by-step tutorial, click here.
Take a look at SheKnow's fun and festive Pinata cookies from last year.
Ingredients
1 tube sugar cookie dough
1 cup green candy melts
1 cup tan candy melts
1 cup red candy melts
1/4 cup black candy melts
Nerds candies
Pirouette rolled wafer cookies
Red Life Savers Gummies
Cooking Directions
Preheat oven to 350 degrees. Roll 1-inch balls of sugar cookie dough and place inside the bottom half of a lightly greased cake ball pan. Bake for 8-10 minutes. Remove from oven and let cool for a few minutes. Using a melon ball tool, lightly press the insides each cookie to flatten and hollow. Allow cookies to cool in pan for 5 more minutes. Using a sharp knife, carefully loosen and remove cookies. Repeat baking steps with remaining dough.
Group the cookie halves into pairs, and fill the bottoms with Nerds candies. Melt tan candy melts in a microwave safe bowl, 30-seconds at a time, stirring after each heating, until melted. Dip the open edge of the top cookie halves in candy melt.
Attach to the bottom pairs filled with Nerds. Allow to cool and harden. Any drips can be cleaned up with a knife after they're firm. Cut Piroette cookie sticks in half. Insert a red Gummy Life Saver candy on the tip of each cookie stick. Melt green candy melts in the microwave. Dip the bottom 1/3 of each cookie ball in the green candy melt.
Flip them over and attach a Pirouette cookie stick with Gummy Life Saver. Place in a drying rack or in a mini cupcake pan to cool and harden. Reheat and melt the tan candy melts again in the microwave. Dip the cookie balls with attached Piroette sticks into the tan candy melt and coat the remaining cookie area.
Flip upright and place inside small glasses to cool and harden. Melt red candy melts in the microwave. Dip the top 1/3 of each cookie ball in the red candy melt. Flip upright again and place inside glasses to cool and harden. Melt black and white candy melts in microwave. Using a paintbrush add decorative stripes, dots, etc. to your maraca cookies. Shake and eat.
Recipe courtesy SheKnows.com.
Other Recipes That You Might Like