Eugenie Kitchen's Caramel Frappuccino
At Home Coffee Hack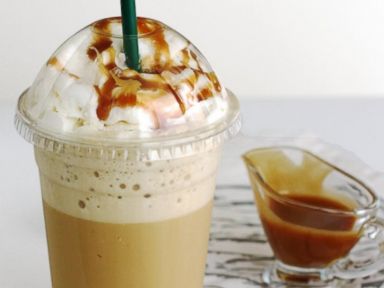 From the kitchen of Eugenie Kitchen
Celebrate National Coffee Day with this recipe from Eugenie Kitchen for a Caramel Frappuccino.
Ingredients
1 cup large ice cubes
2 shots espresso, cooled (or 1/3 cup strongly brewed coffee, cooled)
1/2 cup milk, cold
1 tablespoon caramel sauce
3 tablespoons caramel syrup (45ml)
Xanthan gum, optional
Whipped cream
Caramel sauce
Cooking Directions
In a blender, add in 1 cup of large ice cubes and 2 shots of espresso. You can also use 1/3 cup of strongly brewed coffee. If you use Nespresso capsules like me, I recommend that you use capsules of mild intensity. Then 1/2 cup of cold milk, any milk as you want. Add in 1 tablespoon of caramel sauce. And add in 3 tablespoons of caramel syrup depending on your preference. Then add in just a pinch of xanthan gum, which is optional. Actually these days I use Xanthan gum quite frequently because it is also used in milkshake, ice cream, and gluten-free cooking for better texture.
Pulse and blend. It should take about 30 seconds.
For finishing touch, top with whipped cream and drizzle homemade caramel sauce.
Note: Xanthan gum is a byproduct of fermentation of glucose or sucrose. When it's added into liquid, it will form the 'gum' which will thicken the drink.
Recipe Summary
Main Ingredients: ice, espresso, milk, caramel sauce, whipped cream
Course: Drinks