Carla Hall's Apple Compote Napoleon with Cinnamon Ginger Wafers and Toasted Walnuts
Assemble This Delicious Napoleon This Fall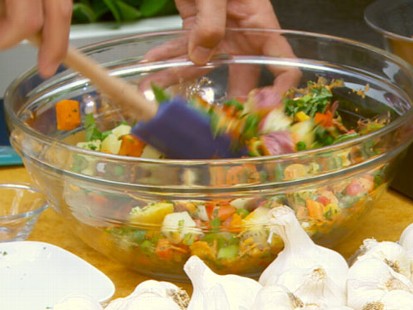 "The Chew's" Carla Hall whips up some potato salad and apple pie.
From the kitchen of Carla Hall
Finish your meal with something crunchy and sweet. With flavors of cinnamon and ginger, you won't be disappointed!
Ingredients
For the wafers:
6 sheets phyllo dough
1 can olive oil spray
1/4 cup granulated sugar
1/2 teaspoon ground cinnamon
1/4 teaspoon ground ginger
For the compote:
2 tablespoon unsalted butter
4 granny smith apples, peeled and ½" dice
3/4 cup brown sugar
1/2 teaspoon cinnamon
1/2 teaspoon salt
2 tablespoons lemon juice
3 tablespoons cornstarch
1/2teaspoon vanilla extract
1/2 cup golden raisins
Toppings:
1/2 cup toasted walnuts, roughly chopped
caramel sauce
vanilla ice cream
Cooking Directions
For wafers:
Preheat oven to 375 degrees. Combine sugar, cinnamon and ginger in a small bowl. Keep phyllo covered with a paper towel or kitchen towel while working. Lay 1 sheet of phyllo down, and then spray with olive oil. Generously sprinkle with sugar mixture. Repeat two more times, ending with a stack of three oiled sheets.
Using a ruler or a straight edge, trim the edges, then cut the sheet into 3 equal strips. Cut each strip into 3 equal squares. Repeat process with remaining phyllo sheets. Place squares on a parchment-lined baking sheet. Do not overlap. Place another piece of parchment on top, then top with another sheet pan.
Bake for 15 - 20 minutes or until the wafers are golden brown and crisp. Let cool. Store in air tight container.
For the compote:
In a large skillet, melt butter on medium heat. Add apples and sauté for 2 minutes. Add sugar, cinnamon and salt. Cook for another 4 minutes or until apples are tender. In a small bowl combine lemon juice, vanilla extract and cornstarch. Pour cornstarch mixture into apple mixture. Allow to boil for 1 minute. Add raisins. Adjust sugar, if necessary.
To assemble:
Stack two layers of apples and wafers. Top with a small scoop of ice cream and drizzle with caramel.
This recipe was styled by chef Karen Pickus for Good Morning America.
Recipe courtesy of Carla Hall.
Recipe Summary
Main Ingredients: walnuts, phyllo, apples, vanilla ice cream, caramel sauce, cinnamon, ginger, butter
Course: Dessert