Carla Hall's Apple and Sweet Potato Tart with Brandy Pecan Glaze
Courtesy of "The Chew"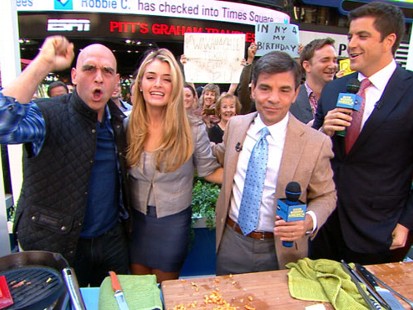 Team Robin faces Team George to cook with mystery ingredients in five minutes.
From the kitchen of Carla Hall
|
This tart is almost too pretty to eat. We love the unsuspecting hint of lime with the traditional flavors. For more great recipes visit The Chew's site.
Ingredients
4 tart apples (peeled cored and quartered)
2 sweet potatoes (peeled and cut into pieces the same size as the apples)
1 flaky butter crust
½ cup Brandy
½ cup maple syrup
Lime zest and juice
3 tablespoons butter
1 cup chopped pecans (toasted)
Pinch of salt
Cooking Directions
Preheat oven to 400 degrees.
Prepare the brandy pecan glaze: Pour the brandy in a small pot and
reduce by half. Add the lime zest, lime juice, maple syrup, butter and salt
to taste. Bring mixture to a boil, then reduce heat and simmer for 5 – 7
minutes. Add in pecans. Remove from heat and set aside.
Heat a 9" skillet to medium high heat. While
searing the apples and sweet potatoes, place them alternately in the pan
so they are squeezed tightly together. Pour ½ the syrup over.
Prepare crust by rolling it out 1/8 inch thick. Place crust on top of apples
and sweet potatoes and tuck edges into the pan. Bake for 30 – 35 minutes
or until crust is golden brown and apples and potatoes are soft enough for
a toothpick to be inserted easily.
Remove pan from oven and let cool off a bit. Place a serving dish on top
of pan, and carefully flip over. Crust will be on the bottom.
Serve warm with remaining sauce and vanilla ice cream. Enjoy!
Recipe courtesy Carla Hall.
Other Recipes That You Might Like