Carla Hall's Blueberry Cherry Pie with Sour Cream
Summer Fruits Get a Touch of Tangy Sour Cream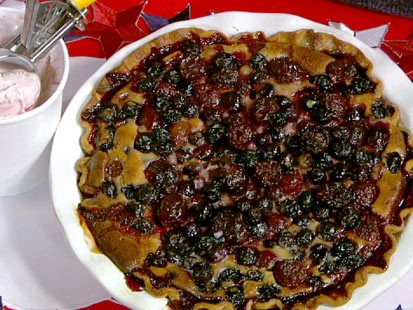 From the kitchen of Carla Hall
Ingredients
1 pie crust
1/2 cup superfine sugar
1/2 teaspoon cinnamon
1/4 teaspoon salt
pinch of nutmeg
1 1/2 cups blueberries
1 1/2 cups cherries
3 eggs
1 cup sour cream
1/3 cup mild honey
Cooking Directions
Combine 2 tablespoons sugar, cinnamon, salt and nutmeg. In a large bowl, toss sugar mixture with blueberries and cherries. In a small bowl, combine eggs, remaining sugar, sour cream and honey. Add the egg mixture to the blueberries and gently combine.
Pour the blueberry- cherry filling into the prepared pie shell and bake for 1 hour at 350. Serve warm with whipped cream.
Recipe courtesy "The Chew"
Recipe Summary
Main Ingredients: cherries