Carla Hall's Butternut Squash Tart Tatin
Add This to Your Vegetarian Thanksgiving Menu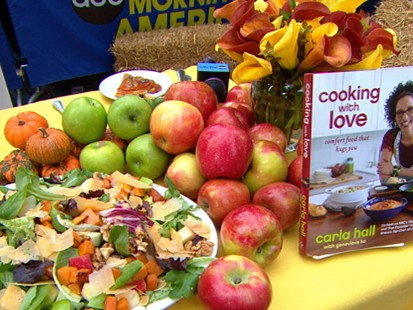 Star of ABC's "The Chew" prepares butternut squash Tarte Tatin and a mixed green salad.
From the kitchen of Carla Hall
|
Try Carla Hall's butternut squash tart tatin recipe. Serve it as a side dish or as a vegetarian option. For more great recipes from Carla, check out her cookbook, "Cooking with Love" here.
Ingredients
1 flaky pie crust for 9" pie
1 medium butternut squash, peeled, halved lengthwise, seeded and ¼" sliced
1 medium yellow onion, halved and thinly sliced
3 cloves garlic, sliced
1 tablespoon olive oil
1 teaspoon salt
½ teaspoon freshly ground black pepper
2 tablespoons unsalted butter
2 tablespoons lemon juice
1½ tablespoons honey
1 teaspoon lemon zest
1½ teaspoons fresh thyme
1 teaspoon chopped fresh sage
Cooking Directions
Preheat oven to 400°F. Toss butternut squash, onions and garlic in olive oil, salt and pepper. Spread the veggies evenly on two on sheet pans. Bake for 15 – 20 minutes or until veggies are browned lightly and slightly firm to the touch. Remove from oven and let cool slightly.
In a cast iron skillet, melt the butter over medium heat. Add the lemon juice and honey and stir until the mixture is combined and bubbly. Remove from the heat and stir in the lemon zest, thyme and sage. Season with salt and pepper to taste.
Layer the roasted butternut squash in close concentric circles, remembering that the bottom of the pan will be inverted and presented as the top. After the bottom layer is complete, spread the remaining veggies on top.
Reduce the oven temperature to 375 degrees. Place the pastry on top of the vegetables in the cast iron skillet, tucking the edges in loosely and put the skillet in the oven. Bake for 30 minutes, or until the crust is lightly golden brown. Remove from the oven and allow to sit for 15-20 minutes before inverting onto a plate.
This recipe was styled by chef Karen Pickus for Good Morning America.
Recipe courtesy Carla Hall.
Other Recipes That You Might Like