Carla Hall's Grilled Cheese With Arugula-Artichoke Pesto and Havarti
Try This Sandwich 'The Chew' Co-Host Makes at Home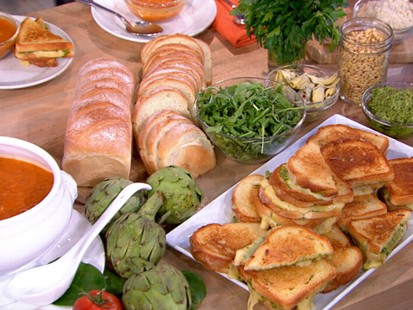 Star of "The Chew" combines her soup with her fancy grilled cheese.
From the kitchen of Carla Hall
Folks often want to know what I eat when I'm not eating for work. Well, this is it. I have grilled cheese at home a lot. It's what I throw together after a long day and really savor when I can finally put my feet up. The crisp bread and melty, gooey inside is one big long mmm-mmm sigh for me.
But I don't just throw any ol' sliced bread and cheese together. My basic formula is: artisanal bakery-bought or homemade bread + flavorful pesto + good cheese! I keep all of them on hand in my fridge or freezer so my end-of-day treat tastes and feels really special with little effort.
I'm not gonna give you a super specific recipe for the sandwich. That will totally depend on your mood. Sometimes, you want it cheesier, sometimes pesto-ier. But I'm giving you the building blocks and the fundamentals techniques. That's all you need to craft a yummy sandwich. Makes as many as you want!
Ingredients
For the Arugula- Artichoke Pesto:
2 cups packed baby arugula
1 cup chopped drained marinated artichokes
2 garlic cloves, coarsely chopped
1/4 cup pine nuts, toasted*
1/4 cup freshly grated Parmigiano-Reggiano cheese
Freshly grated zest and jice of ½ lemon
Kosher salt
1/4 cup extra virgin olive oil
For the Sandwiches:
Basil Bacon Bread or other really good loaf of bread, cut into 1/3- inch-thick slices
Sharp or extra sharp aged cheddar or Havarti cheese, thinly sliced; or fresh mozzarella, patted dry and cut into 1/4 –inch thick slices
Unsalted butter, at room temperature
Cooking Directions
In a food processor, combine the vegetable(s), garlic, pine nuts*, herbs, cheese, lemon, spice (if any), and a pinch of salt. Pulse until it forms a chunky paste, stopping to scrape the sides and bottom of the work bowl occasionally. With the machine running, add the oil in a steady stream. Keep processing to your taste, pulsing less for a coarse pesto, more for a smooth one. Season to taste with salt. You can keep the pesto in an airtight container in the fridge for 1 week or in the freezer for up to 3 months.
To make the sandwich, spread pesto on one side of each of two slices of bread. Arrange a layer of cheese over the pesto on one slice of bread. Sandwich with the other slice of bread, pesto side down. Spread a generous layer of butter on both outsides of the sandwich.
Place the sandwich in a nonstick skillet and turn the heat to medium-low. Cook, turning occasionally, until the bread is nice and toasty and golden brown and the cheese is really melty and the sandwich is hot all the way through. Go slow! Too often in a grilled cheese, the bread is brown and the cheese is cold. Um, no. Don't want that. Turn the heat down if you see that happening.
Eat the sandwich as soon as it comes out of the pan, standing up if you have to. You've got to enjoy it hot. Otherwise, it's not so enjoyable. (But don't burn your tongue on the hot cheese. That's not so enjoyable, either.)
If you're making this for other people, too, your kids or friends or whatnot, hand 'em their sandwiches and tell them to show down. This is casual fun food, meant for eating in a nice warm kitchen that smells all good and grilled-cheesy.
TIP:
*To toast spices or nuts, heat them in a small dry skillet over medium heat until they're just fragrant and golden. (You can use the oven if you have it on anyway or are doing a huge batch on a baking sheet. Watch the spices or nuts very carefully to make sure they don't burn. 1/2 cup packed fresh flat-leaf parsley leaves
Original recipe courtesy "Cooking with Love: Comfort Food that Hugs You," by Carla Hall.
This recipe was styled by chef Karen Pickus for Good Morning America.
Recipe Summary
Main Ingredients: bread, butter, cheese, marinated artichokes, argula, pesto, havarti cheese, sharp or extra sharp aged cheddar
Course: Lunch, Dinner