Carla Hall's Grilled Peaches with Rosemary and Honey
Simple and Sweet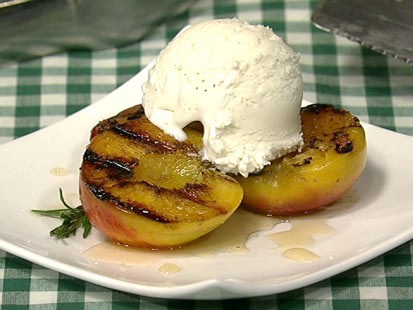 From the kitchen of Carla Hall
Ingredients
5 peaches, halved
olive oil, for drizzling
1 pint vanilla ice cream
1 cup honey
1 sprig rosemary
Cooking Directions
Heat your grill/grill pan over high heat.
In a small sauce pot add honey and simmer for 2-3 minutes.
Lightly drizzle peach halves with olive oil. Place them cut side down on a well-oiled, high-heat grill/grill pan. Grill for 3-4 minutes.
Flip peaches and brush on warmed honey with rosemary sprig. Remove once peaches are warm and have distinct grill marks.
Top with a scoop of ice cream and extra drizzle of honey.
Recipe courtesy The Chew.
Recipe Summary
Main Ingredients: peaches, ice cream, olive oil
Course: Dessert