Carla Hall's Ham and Gruyere Quiche
A Fantastic Brunch Option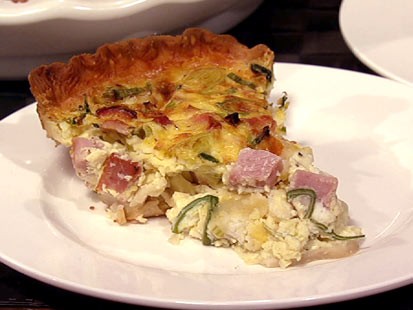 From the kitchen of Carla Hall
Ingredients
1 Refrigerated Pie Crust (rolled out)
5 Eggs
1/2 Cup Milk
3/4 Cup Gruyere cheese (grated)
1/2 Cup Ham (chopped into small pieces)
1 Leek (chopped)
Cooking Directions
Preheat oven to 450 degrees F. Line pie dish with crust as directed on package for a 1-crust filled pie. Bake until set, about 9 minutes. Cool.
Reduce oven temperature to 400F. Whisk together the eggs and milk. Stir in the gruyere, ham, and leek. Season with salt and pepper, then pour into pie crust.
Bake until set and puffy, about 35 to 40 minutes. Let cool and serve warm.
Recipe courtey The Chew.
Recipe Summary
Main Ingredients: milk, gruyere, ham, leek
Course: Brunch