Carla Hall's Mac and Cheese Tortelloni
Try This New Take on the Original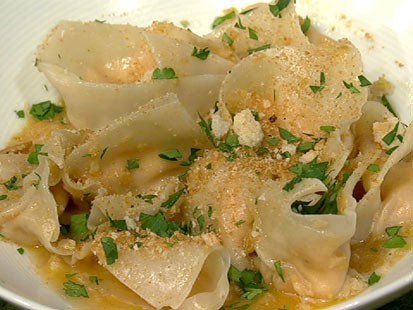 From the kitchen of Carla Hall
Ingredients
1/2 Cup fresh ricotta
1/2 Cup extra sharp cheddar cheese
1 Tsp Dijon mustard
1/2 small onion, grated
1 Tbsp butter
1 bay leaf
1 Tsp paprika
20 wonton wrappers
water, for sealing pasta
2-3 Tbsp butter
fresh thyme
fresh parsley
fresh bread crumbs, toasted with butter
Cooking Directions
In small skillet, sweat onions in butter with bay leaf. Cook until soft, about 5 minutes. Add paprika. Cool, then remove bay leaf.
Combine ricotta, cheddar, Dijon and onion mixture. Spray wonton lightly with water. Place 1 teaspoon of cheese mixture in center of wonton. Fold wonton in half, then fold the tops over and pinch the folded part back to connect the edges. It will look like a flying nun's hat. (I know this sounds confusing, but it's hard to write in few words. I will show you in the morning.) Place the finished pasta on a sheetpan with fine cornmeal or semolina.
Cook the pasta in boiling salted water. While it cooks, ladle about ½ cup of pasta water in large skillet, then add butter and fresh herbs. Toss the cooked pasta in the butter sauce. Serve and top with bread crumbs and chopped parsley.
Recipe courtesy The Chew.
Recipe Summary
Main Ingredients: ricotta, cheddar, dijon, parsley
Course: Dinner
More Info: Kid Friendly